Galamsey At Akyem: Okyenhene Fingered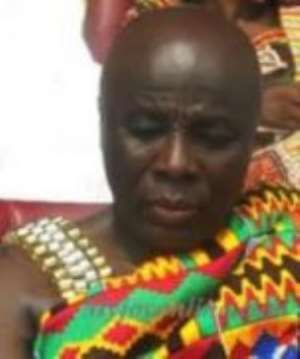 The Okyenhene, Osagyefo Amoatia Ofori Panin who has been fingered in Galamsey operations at Akyem
Some members of the Asona Royal Family at Kyebi in the Akyem Abuakwa Traditional Area Tuesday clashed with some supporters of the Okyenhene, Osagyefo Amoatia Ofori Panin, over allegations of his collusion with galamsey operators in Kyebi in the Eastern Region.
According to members of the Royal Family, the Okyenhene had oversight responsibility over events and activities within his jurisdiction and could, therefore, not say he was not aware of the illegal mining operations.
The Asona Royal Family, led by Odehyee Nana Kwame Adjei Boateng, who had earlier accused the Okyenhene of secretly funding illegal mining, similarly tasked the Akyem Abuakwa Traditional Council to challenge the Okyenhene to prove his innocence.
Illegal mining activities in the area pose serious challenges to the survival of the Birim River, which is the only source of water supply to the community and its environs, resulting in the pollution of the river to the extent that it had become dangerous for domestic use and drinking.
The Ghana Water Company Limited (GWCL) recently shut down its plant at Kyebi because of the uncontrolled activities of illegal miners in the river.
The Okyenhene has, however, denied the allegation, describing it as a smear campaign.
The accusation, however, stunned the entire community owing to the Okyenhene's extensive campaign against illegal mining and environmental degradation. That whipped up people's interest when Odehyee Boateng vowed to ensure that the Okyenhene swore an oath of innocence.
Subsequently, Odehyee Boateng, in the company of four others, stormed the Ofori Panin Fie Tuesday morning in an attempt to coerce the Okyenhene to swear the oath of innocence publicly before the community deity, but the move was resisted by supporters of the Okyenhene, resulting in clashes between the two groups.
The clashes led to injury to some of the people on both sides.
According to eyewitnesses, armed guards on duty at the Okyenhene's palace severely assaulted some members of the Asona Royal Family, while others fired gunshots to disperse the large number of people who had thronged the vicinity to witness the unfolding events.
No arrest has so far been made.
A Spokesperson for the aggrieved family, Nana Boakye Yiadom, who spoke on an Accra FM station, said the action of the Asona Family was to ensure total protection of Kyebi, which had become worried over the activities of galamsey operators.
He said although the Okyenhene professed to be a crusader against illegal mining in the area, he allegedly supported the operations on the blind side of the community.
Nana Yiadom said the Asona Royal Family would not relent in its quest to ensure the total protection of the Birim River.
Meanwhile, the Kyebi Divisional Police Commander confirmed the disturbances to the Daily Graphic when he was reached on phone by Nana Konad, a Daily Graphic reporter from Koforidua.