Trinity Lutherans Church Preparatory School pupils calls on Okyenhene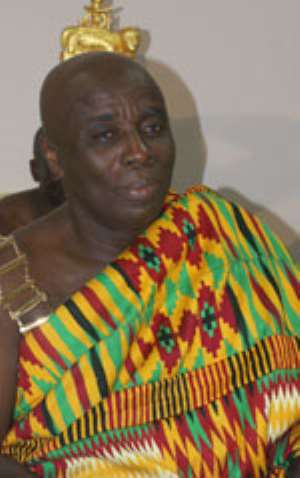 Osagyefo Amoatia Ofori Panin, Okyenhene
Like an old African  adage which states  that a person who does  know his or her culture is like a zebra without stripes, the pupils of the Trinity Lutherans Church Preparatory School located in Tema Community Two (2) has taken a trip to Okyeman to visit the Okyenhene, Osagyefo Amoatia Ofori Panin.
The children who were drawn from classes four to six, as part of their culture studies lessons, called on the Overlord of the Akyem Abuakwa State, Osagyefo Amoatia Ofori Panin, to know about the roots and history of the State.
The Okyenhene was thrilled, and marveled about the intellectual display of these children through the asking of important questions, shortly after the 3rd meeting of the 12 session of the Akyem Abuakwa State Council.
They asked questions ranging from how the name Akyem came about, the role of the linguist, and the use of the linguist staff among others, which were excellently answered by Osagyefo Amoatia Ofori Panin to the admiration of the children, amidst applause.
In an interview with the Eastern File, Mr. Adams Stephen Fiifi, a Class Five teacher of the school, said the visit was very educative, and that the children had learnt about the culture of the Akyems.
'I thought Kyebi is a village anytime one talked about the place, but my visit to the place has given me firsthand information, and also made me know that after all, the place is not a village,' said Adobea Asante-Appeatu, a Class Six pupil.
She charged Ghanaians, particularly, school going children, to learn about the culture of their immediate environments, in order to be able to tell the story.
To her, the culture of the people makes them what they are, hence it would be imperative for every Ghanaian to know about the culture of the town he or she comes from.
The Okyenhene charged the children to take their studies seriously, if they want to become very important people in future.