CPP brouhaha is due to Samia's presidential ambition for 2016 - Sekou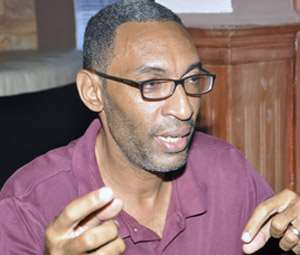 Sekou Nkrumah
Dr. Sekou Nkrumah, son of Ghana's first president has blamed the CPP's indecision on whether to field a presidential candidate for the 2012 elections on the party Chair; Samia Yaba Nkrumah who he alleges is nursing a presidential ambition for 2016.
He revealed that some elders in the party are working assiduously to make his sister, Samia the face of CPP in the party's bid to emerge as a third force in the country's politics.
The CPP is on the cross-roads on whether to hold an early presidential primary to elect a flag bearer ahead of the 2012 general elections.
Some members of the Nkrumahist party argue that the CPP can never win any elections in the near future with weak structures and only one representation in parliament.
Hence, according to them, the party must forget about fielding a presidential candidate in 2012 and concentrate on upping their parliamentary seats.
Others advocating for an early flagbearership contest also argue that given the abysmal performance of the party during elections, there is the need for an early presidential primary to give the candidate elected enough time to prepare and market himself to the electorate.
They believe that the electorates would not vote for a parliamentary candidate of a party without a presidential candidate.
The party chair, Samia Nkrumah seems to side with the former when she hinted the CPP would organize a presidential primaries deep in 2012, same year as the presidential and parliamentary elections next year.
However, speaking on Asempa FM's Ekosii Sen programme Tuesday, said the personal ambition of Samia Nkrumah has made the situation murkier since she is unable to take a neutral stance on the issue.
He noted that a late presidential primary being championed by the CPP leadership is intended to frustrate candidates vying for the 2012 flag bearer slot to pave way for Samia in 2016.
'Those who want to build the party around Samia for 2016 care less whether they have a candidate or not. They would rather prefer the candidate (they elect to lead the party for 2012) performs poorly' he observed.
Dr. Nkrumah was convinced his sister's plan is likely to fail because according to him, when Samia was brought to Ghana and given a safe seat in the party, people like Dr. Paa Kwesi Nduom had sacrificed to make sure a CPP existed.
Sekou Nkrumah bemoaned the situation where a party like the CPP which struggles to gain political popularity is rather seeking to build the party around a personality – something another party is paying dearly for.
He urged the CPP to initiate new programmes that would inspire the people, especially the younger generation, into joining the party rather than building the party around a personality.
Sekou Nkrumah, who expressed pessimism about the performance of his sister as the chairman of the CPP, said given the misfortunes of the party now 'it would not be difficult to predict doom for the party'.
Source: Myjoyonline