Entrepreneurial training for KNUST student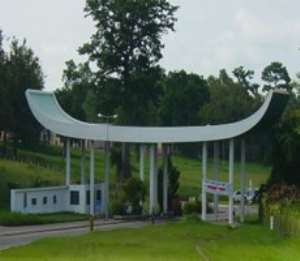 From next academic year, graduates from the Kwame Nkrumah University of Science and Technology (KNUST), Kumasi, would no longer have to seek for employment in the public sector.
This is because they are being equipped sufficiently to be entrepreneurs and employers.
Professor Sam Afrane, acting Provost of the College of Arts and Social Sciences of the KNUST, who disclosed this in Accra, and said the university was at the forefront of ensuring that Ghana became an entrepreneurial country.
He was speaking during a courtesy call on the Managing Director of the New Times Corporation (NTC), Mr. Kofi Asuman, said the university was adopting innovative methods in this direction to help address the problem of unemployment in the country, especially among universities graduates.
Prof Afrane said to achieve its dream of turning out entrepreneurs; the university had set up a 'think tank' unit, the Centre for Business Development (CBD) to produce high quality professionals to meet the challenging demands of industry.
Professor Afrane accompanied by Mr. Ralph Nyandu-Addo, Business Development Officer and co-ordinator of the Kumasi Business Incubator, and Mr Samuel Kow Akomoa, co-ordinator, Industrial and Professional Relations of KNUST, were at NTC to introduce themselves formally to the media to solicit for good relationship.
He said the KNUST under the CDB would invite Industry players such as chief executives to the campus to give students motivational talks and share their experiences with them.
Besides, lecturers would be seconded to public and private sector institution such as the banks, industries and business establishments, among others, to work for a month or two to give them practical experience that would enable them to impart these experiences to their students in the classroom.
Prof Afrane said that the COB had as one of its strategies, the Kumasi Business Incubator (KBI) whose objective was to support the establishment of businesses in the areas where incubates had already acquired some knowledge and skills, based on resources where Ghana had comparative international advantage within the West African sub-region.
He said the KNUST was ready to collaborate with the business community and industry to provide research and capacity building to accelerate their growth.
In addition, the university, he said, would organize sandwich or short certificate courses for staff of institutions to broaden their knowledge in their various professional areas.
Mr. Koti Asuman commended KNUST for the innovation, particularly the entrepreneurship programme for final year students. "These are laudable things which must be applauded," he said, adding "as a media institution, we would not hesitate to project your works to the outside world," he said.
Mr. Asuman welcomed the request for collaboration between the NTC and the KNUST in the area of capacity building for staff of the corporation and the attachment of lecturers to get insight in industry.