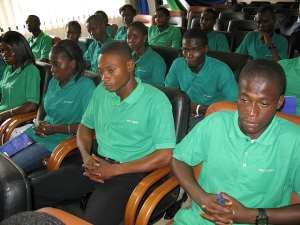 The KNUST School of Business has graduated the first class of students enrolled in the World Cocoa Foundation (WFC) Agricultural Logistics Skill Development Programme.
Thirty post-secondary students were selected from the Kaase community in Kumasi to participate in the pilot certificate programme, which started in June 2011.
They received training in logistics, transportation, supply chain, warehousing, information technologies and other skills to help qualify them as logistics and warehousing technicians, especially in the cocoa industry.
The students would also be afforded essential practical experience through their placements in a three-month internship with programme sponsors – Archer Daniels Midland (ADM) Company and Safmarine Shipping Line, as well as other companies within the cocoa industry.
Provost of the KNUST's College of Arts and Social Sciences, Professor Sam Afranie, says the training is essential in producing the requisite skill-sets for job creation and to sustain Ghana's premium quality cocoa production.
"These young men and women have been exposed to new ideas, new techniques in contributing towards the management of the cocoa industry and that capacity is very relevant, particularly now that we want to upscale the cocoa industry", he stated.
Logistics, transportation and warehousing are essential links in the cocoa supply chain.
According to the WCF, the programme seeks to develop and build the technical competencies of Ghanaian youth to understanding of the cocoa supply chain and support overall national development.
General Manager of ADM Cocoa Ghana, Nicolas Poyade, described the scheme as one of the company's best corporate social responsibility programmes.
He enjoined other institutions like the Ghana Cocoa Board (COCOBOD) to help sustain the programme.
Advertisement
Safmarine's Adam Imoru Ayarna also expressed the commitment of the shipping line to broaden partnerships to offer sustainable development through education.
Dean of the KNUST Business School, Joseph Magnus Frimpong, says subsequent programmes will "widen the scope for a more equitable distribution of candidacy", targeting cocoa-growing areas.
Graduates who have the desire for further academic training will have the opportunity to pursue the Chartered Institute of Logistics and Transport (CILT-UK) Certificate and Diploma in Logistics offered by KNUST.
The programme is part of the ongoing WCF Empowering Cocoa Households with Opportunities and Education Solutions (ECHOES) Alliance.
Story by Kofi Adu Domfeh/Luv Fm/Ghana