Libya ex-spy chief's daughter 'freed'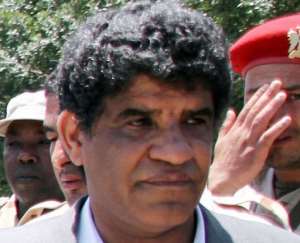 Senussi was arrested in Al-Guira region in the south of the country. By ()
TRIPOLI (AFP) - The daughter of Libya's ex-spy chief Abdullah Senussi, who was reportedly kidnapped last week, has been freed, a member of her tribe said on Sunday.
Senussi was intelligence chief for Libya's long-time dictator Moamer Kadhafi, and his daughter Unud had completed a 10-month jail term when she was snatched on Monday.
Unud Senussi "was freed yesterday (Saturday) evening and is currently safe with members of her family in Brak al-Shati" in southern Libya, Abdelkader Belgacem, a member of the Magerha tribe, to which she belongs, told AFP.
"Unud is due to spend some time in the south before going to Egypt to join her mother and sister," Belgacem added.
Justice Minister Salah al-Marghani had said Unud, in her 20s, was snatched by "turban-wearing armed men" who ambushed her convoy as she left prison a suburb of Tripoli.
But a unit in the security forces said on Thursday that it had seized Unud to foil a plan by "other parties" to kidnap her and claim a ransom.
The unit is affiliated with the Higher Security Commission, made up of former rebels who fought the Kadhafi regime in 2011, and linked to the interior ministry.
Libya's authorities decided to dissolve the Commission, formed after the fall of the Kadhafi regime in October 2011 to help secure the country, but have yet to carry out the order.
Unud's father Abdullah, Kadhafi's brother-in-law, is due to stand trial in Libya on September 19 along with other key figures from the former regime, accused of crimes committed in the 2011 conflict.
He is also wanted by the International Criminal Court on charges of crimes against humanity during the revolt.
Unud Senussi was arrested in October with a false passport and sentenced to 10 months in prison.