Somalia's Shebab vow to defeat Ethiopian forces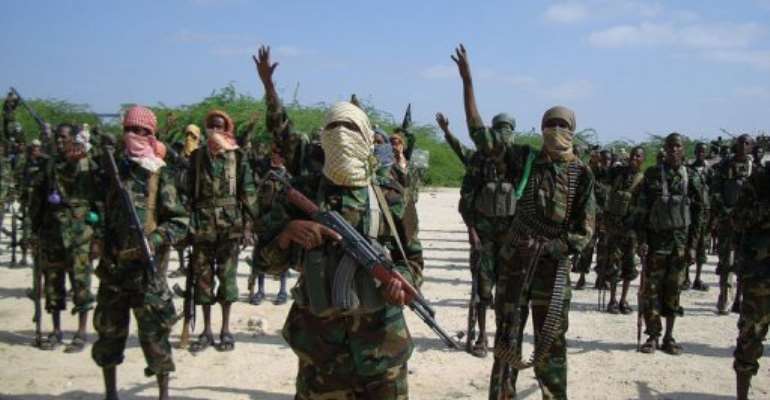 NAIROBI (AFP) - Somalia's Islamist Shebab rebels warned Ethiopia on Sunday they would "break the necks" of their troops inside Somalia, a day after several hundred soldiers crossed into the war-torn country.
"Soldiers of our enemy, the black colonialists of Ethiopia, made some movements into our region on Saturday, but they do not scare us," said Sheikh Yusuf Ali Ugas, the insurgent group's commander for the Hiran region.
"We will break the necks of the invaders. ... Our troops are ready for anything, if the Ethiopian enemy try to attack us," Ugas added, speaking on the Al-Qaeda-linked group's radio Al Andalus.
Convoys of Ethiopian troops in lorries and armoured vehicles entered southern and central Somali regions, local elders said Saturday, although Addis Ababa has denied all reports.
"We shall defeat them and fight them any way we can," Ugas said. "The Ethiopian attack is a plan to oppose the implementation of Sharia law in Somalia by the enemies of our Muslim nation."
Small numbers of Ethiopian forces have been reported operating in Somali border regions in the recent past, but witnesses said the scale of troop movements was far larger this time.
Troop convoys were also reported have entered the south of Somalia after crossing through Kenya, which shares borders with both nations.
"I have seen as many as 20 trucks full of Ethiopian soldiers entering Somalia," said Idris Kasim, a resident of the Kenyan-Somali border village of Bulahawa. Another convoy of 15 trucks were reported to have crossed nearby.
The numbers of troops reported suggest that Addis Ababa could be making its first large-scale incursion since it invaded Somalia in 2006 with US backing.
It pulled out three years later after sparking a bloody uprising against its forces and failing to restore order in its lawless neighbour, which has lacked a functioning government for two decades.
But Ethiopian foreign ministry spokesman Dina Mufti on Saturday dismissed the reports outright, saying there were "absolutely no troops in Somalia."
Hardline Shebab insurgents control much of southern Somalia, but are battling both the Western-backed government in Mogadishu and Kenyan troops in the far south, who crossed the border last month to attack rebel strongholds.
Ethiopian troops were seen close to the Shebab-held town of Beledweyne, some 30 kilometres (18 miles) into Somalia.
There were no reports of any fighting but mixed feelings among Somalis, with even those against the Shebab fearful of Ethiopia's intentions.
"The Shebab misused Islam and destroyed our national Somali values," said Abdulahi, a shopkeeper in the rebel-held town.
"We would have liked to be able to defeat the Shebab without the Ethiopians, but it was not possible, so that is why we have to opt for the support of the devil," he added.
Others residents of the town said they would attack Ethiopian forces.
"Ethiopia is not our friend, and they are not here for our interest -- we shall fight them to the death," said Ali Abdiweli Hassan. "Ethiopia is a big country but is being sent to war because it is under the command of the USA."
Ethiopian soldiers were also seen some 50 kilometres inside Somalia in the central Galgudud region, an area largely controlled by factions of the Ahlu Sunna wal Jamaa, an anti-Shebab militia with ties to Ethiopia.