Okyehene fingered in illegal mining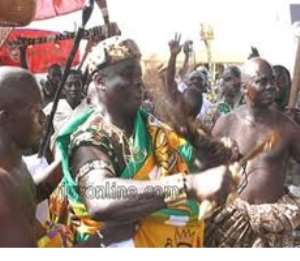 Osagyefo Amoatia Ofori Panyin II
The Asona Royal family of Kyebi has called on the Okyehene, Osagyefo Amoatia Ofori Panyin II, to come clean on accusations leveled against him on some illegal mining activities being carried out behind one of his houses.
According to members of the royal family, the Okyehene is responsible for everything that goes on in his jurisdiction and cannot say he was not aware of the illegal operations locally referred to as galamsey being carried out behind his property.
The royal family has also jumped to the defense of one of its members, Odehyee Kwame Adjei Boateng, who is being accused of spearheading a campaign to taint the image of the Okyehene.
Speaking to Citi News, a member of the Asona family Nana Boakye Yiadom said his uncle was only conveying the views of the entire family.
"What my uncle said is true, we can't be sitting down for our own Chief [to allow people] besides his house to dig holes. It is not fair, it cannot be so and we know what is going on in town that some people have been given money for land to do anything that they want, it is not fair," he alleged.
Meanwhile, a counsel for the Okyehene, Kwame Boateng, has told Citi News that it is impossible for the Okyehene to support illegal mining activities.
He explained that the residence in question is within a concession that belongs to a mining company and was not illegally given out to galamsey operators.
According to Mr. Boateng, Extra Gold Mining Company was permitted a long time ago to mine in the area. He, however, added that galamsey operators took advantage of the absence of the Okyehene to carry out the illegal activities.