Koku behaves like a "serial caller" – Mpiani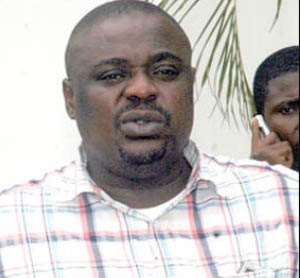 Koku Anyidoho
A former Chief of Staff under the Kufuor administration, Kwadwo Mpiani, has said presidential spokesperson, Koku Anyidoho cheapened himself to the level of a "serial caller" when he challenged the flagbearer of the New Patriotic Party (NPP), Nana Akufo-Addo, to produce audio evidence of a meeting between him and the British Prime Minister, David Cameron.
Mr. Mpiani in an interview with Citi News said Mr. Anyidoho should have known better than to make what he described as a 'funny' demand.
The NPP General Secretary Kwadwo Owusu Afriyie told Citi News that Nana Addo chided Mr. Cameron over his aid cut threat to anti gay countries like Ghana when the two politicians met in London recently. That prompted Mr. Anyidoho to express doubts that such a meeting ever took place and demanded for an audio proof.
According to the former chief of staff, he finds the presidential spokesperson's demand very amateurish.
'When I hear Nana Addo should give us a recording of his meeting with the Prime Minister David Cameron, I just laugh, if it is coming from any of those persons forget about it, but coming from a spokesperson of a president who knows what happens there I ask myself how, let this come from a serial caller,' Mpiani stated.
'Do they record when somebody comes to see the President. ..I don't know why we should waste our time on this, coming from somebody who should know better.'
Commenting on President Mills' performance for the past three years vis-a-vis the 2012 budget read in Parliament on Wednesday, Mr. Mpiani said the Mills administration has been a total failure.
Mpiani stated: 'He has not performed well at all, I don't want to use any adjectives that would bring controversy or anything but he has not performed well at all.'
Source: Citifmonline