30,000 Die From Yellow Fever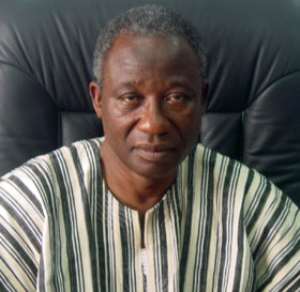 Dr. Ellias Sory, Director of Health Service
IT HAS been revealed that a whopping 30,000 people across the world die from yellow fever, a silent but dangerous viral disease every year.
The deaths are among nearly 200,000 cases of the disease transmitted by the bite from a mosquito called Aedes Aegypti that is recorded worldwide every other year.
This type of mosquito which transmits the deadly disease breeds in plantain and banana leaves, lorry tyres, flower pots and manifests itself through fever, headache, muscle pain, fatigue, nausea and vomiting.
Making the disturbing disclosure during a press encounter ahead of a mass yellow fever vaccination campaign, Deputy Director in charge of surveillance at the Ashanti Regional Health Services Directorate, Dr Asiedu Bekoe said currently there was no antiviral treatment for the disease.
He however noted that there were some supporting treatment mechanisms such as blood transfusion, rest, dialysis for end stage renal disease among others
The deputy director said the best form of treatment is prevention which includes vaccination, control of the mosquito that transmits the disease and avoiding the bite of that mosquito.
Dr. Bekoe pointed out that complications develop in 15 percent of infected persons in the form of jaundice, abdominal pain, bleeding and an assortment of kidney problems.
He said in all, yellow fever occurs in 33 countries mostly in Africa and Latin America and that 500 million people in these places were at risk of catching the disease.
Dr. Bekoe said the mass vaccination exercise scheduled to kick start in 57 districts from November 22-28 was vital because three yellow fever cases have been confirmed in some districts this year.
According to him, this meant there could be an outbreak of the disease in the country, hence the need for a mass vaccination to curtail the danger.
To prevent further outbreaks, Dr Bekoe announced that government in collaboration with its development partners is organizing a yellow fever mass vaccination campaign in high risk districts.
He noted that because Ghana shares a border with Cote D'voire, the country was lying in a high risk zone particularly districts located along the western corridor.
Dr. Bekoe revealed that 17 districts in the Ashanti region would be covered for the exercise but for the first phase, three districts namely Kumasi, Adansi South and Atwima Mponua would be covered.
Noting that the other 14 districts would have their turn somewhere July next year, Dr Bekoe said his outfit was targeting 1,325,201 in the three districts selected for the first phase.
He stressed that permanent immunization posts managed by well-trained staff would be positioned at vantage places in the districts under coverage and that the exercise was free.
Explaining that this exercise was unlike others where field officers moved from house to house, Dr Bekoe entreated people in the targeted districts to do well to locate the immunization posts and get vaccination.
Though there were some side effects such as fever, pain at the injection site, muscle pain, itching and headache, the vaccine is quite safe, Dr Bekoe explained. He consequently urged everyone above the age of ten to get vaccinated.
From Morgan Owusu, Kumasi