Queen appeals for more boreholes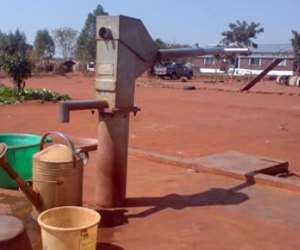 Nkyenua (E/R), Nov. 17, GNA - Nana Yaa Sekyibea, Amankradohemaa of Nkyenua in the Akuapem North District, has appealed for the provision of extra borehole for the community to meet the needs of the growing population.
She told the GNA in an interview on Wednesday that the two boreholes in the community are no longer sufficient for the people due to increase in population
She also appealed to the Department of Feeder Roads to tar the 20- kilometer Amanfrom-Tinkong road and said the current state of the road was not the best and anytime it rains it becomes difficult for vehicles to ply it.
She thanked the government for the extension of electricity to the area and appealed to the Ministry of Education to provide funding towards the raising of the dwarf walls of the Local District Assembly Primary School.
Nana Sekyibea said whenever it rains, the wind blows rainwater into the classrooms.
She promised to mobilize the people in the community to support the project with communal labour.
GNA