Bishop Pushes For Media Regulation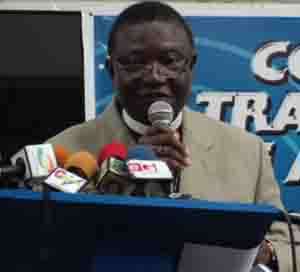 Most Reverend Professor Emmanuel Asante
The newly-appointed Chairman of the National Peace Council (NPC) who also doubles as the Presiding Bishop of the Methodist Church of Ghana, Most Reverend Professor Emmanuel Asante, is pushing for the regulation of activities and operations of the media, especially the radio.
In an interview with DAILY GUIDE, he expressed worry about the inundation of the country's airwaves with the politicisation of virtually every issue that is brought up for discussion, advising that 'there should be sanity in the current nature of our airwaves.'
This was after the launch of the Coalition for Transparency of the Airwaves (COTA) in Accra.
'There is polarisation, there is no two ways about that because I mean anybody who listens to the airwaves would know that this country is polarised between those who belong to the two major parties, either the NDC or the NPP, to the extent that things that we should not even politicise, we tend to politicise them; education, medical issues, workers fighting for their rights,' he noted.
This, according to the Chairman of the National Peace Council, was because 'you have situations where people have access to the airwaves; I mean people are making all sorts of phone-ins. But I think we need to regulate the kinds of things we bring to the public.'
He believes the situation must be remedied before it gets out of hand since according to him, 'Insults and invectives are not things that we should really encourage on the airwaves and there must be ways and means of controlling our airwaves.'
The revered man of God stated that 'I think they may not augur well for this nation if we do not do something about it' because 'just worrying about it will not solve the problem. I think what we need to do is, it should be a matter of concern to us.'
Once it becomes a matter of concern to Ghanaians, Prof. Asante noted, 'We should do the best that we can to ensure that it works because I have always said that you don't sit somewhere and expect somebody to cook peace for you to enjoy because peace is a commodity we must all seek to bring into being.'
In that regard, he emphasised that broadcasters and callers to radio programmes 'must be up and doing and begin to love mother Ghana above everything else.'
 By Charles Takyi-Boadu