Ghana owed 14.8 billion dollars as at September this year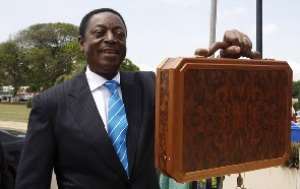 Accra, Nov 16, GNA - Ghana's total public debt increased from 11.2 billion dollars in September 2010, representing 37.8 per cent of GDP, to 14.8 billion dollars, representing 39.0 per cent GDP, in September 2011.
Dr Kwabena Duffuor, Minister of Finance, said during the budget hearing in Parliament on Wednesday that as at the end of September 2011, external debt amounted to 7.1 billion dollars, representing 48 per cent of the total public debt stock and 19.1 per cent of GDP.
The increase in external debt stock is attributed largely to a positive net flow of project loan disbursements compared to debt service payment on existing loans.
Dr Duffuor said domestic debt on the other hand increased from 5,682 million dollars in 2010 to 7,521.6 million dollars in September 2011, representing 51.0 per cent of the total public debt stock and 19.9 per cent of GDP.
He attributed the increase in domestic debt to the issuance of the 5-year and 3-year fixed rate bonds to settle arrears owed to contractors and the securitization of the TOR debt owed to Ghana Commercial Bank.
He said in November 2011 the Government in collaboration with the International Monetary Fund (IMF) and the World Bank conducted the Debt Sustainability Analysis (DSA) which showed the public debt to be sustainable in the medium to long term, even when compared to the external debt thresholds.
"The solvency and liquidity condition, which demonstrates the ability to service the public debt, are, thus, favorable over the medium to long term at a ratio of 33.6 per cent of GDP in 2008," he said, and added that the public debt was expected to rise to 37.2 per cent by 2015, by which period the CDB and other pipeline loans would have been disbursed.
The Finance Minister noted that the combination of fiscal consolidation sustained over the medium to long term, together with stronger real GDP growth, higher export levels, post-oil and gas production, contributed to a more favourable DSA baseline.
On expenditure, Dr Duffuor said total expenditure, including arrears clearance and commitments, in the first 9 months of 2011 amounted to GH¢10,412.3 million, equivalent to 18.3 per cent of GDP. This figure is 1.2 per cent lower than the budget target of GH¢10,543.8 million.
For the whole year, total expenditure, including provision for arrears clearance and commitments was projected at GH¢15,565.5 million, or 6.0 per cent higher than the 2011 budget estimate of GH¢14,397.4 million, he stated.
Dr Duffuor attributed the higher projected expenditure mainly to the higher-than-expected public sector wage bill resulting from the implementation of the single spine salary structure and the clearance of more commitments than programmed during the year.
The overall budget balance for the period showed a deficit of 2.0 per cent of GDP, compared with a budget target of 4.4 per cent of GDP.
He said based on the projected end of year data, the fiscal deficit in 2011 was expected to be 4.8 per cent of GDP and the domestic primary balance would register a surplus equivalent to 2.6 per cent of GDP.
Dr Duffuor said demand for money was generally strong in the first three quarters of the year. Broad money supply, including foreign currency deposits, grew by 41.9 per cent year-on-year, driven mainly by a huge surge in the accumulation of net foreign assets.
Inflation, however, had been on a downward trend since the peak level of 20.7 per cent in June 2009, he indicated.
"Inflation dropped and has remained in a single digit since June 2010," he said, and explained that the decline had been driven mainly by a decline in food inflation.
Developments in the first nine months of the year indicated that the end of year inflation target of 9.0 per cent would be achieved.
He said interest rates continued their downward trend during 2011 in line with declining inflation and inflationary expectations. The policy rate which stood at 18 per cent in December 2009 had by September 2011 dropped to 12.5 per cent.
Rates on Treasury bill instruments had also been on a downward trend.
The Finance Minister said the banking system continued to show a steady growth during the year, with its assets to GDP ratio rising to 43.5 per cent in August 2010, from under 30.0 per cent of GDP in 2008.
"Commercial banks' lending rate has been trending down during the year, with the market leaders dropping their lending rates to 17 per cent and below. We expect all other banks to follow suit," he said.
Dr Duffuor said the external sector continued to show strong performance during the year, mentioning that the trade balance recorded a deficit equal to 4.5% of the GDP for the first nine months of the year on account of a faster export growth.
The stock of gross international reserves at the end of October 2011 stood at 4.98 billion dollars, enough to cover more than 3 months of imports of goods and services, he said.
GNA