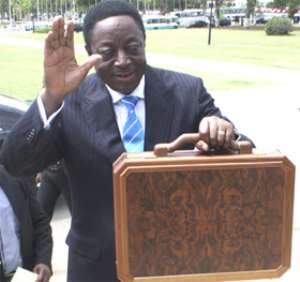 The Mills administration has confirmed that it is ready to defy the International Monetary Fund, reports Citi News Parliamentary Correspondent, Richard Sky.
Just a day after The Globe newspaper published a front page story in which it said '. ..President John Mills intends to pull Ghana out of the International Monetary Fund in a final bid to end moves by the Christine Largarde-led funding agency to suffocate the 3 billion dollar loan his government wants from the China Development Bank (CDB),' Finance Minister Dr Kwabena Duffuor has announced that the Mills administration intends to sign the loan agreement, but did not give details.
'In the light of our middle-income status and prospects of declining access to concessional financing, the Government has secured a US$3 billion Master Facility Agreement (MFA) on non-concessional but very competitive terms with the China Development Bank. The funds will be used to finance critical infrastructure investments, including a gas pipeline that is urgently needed to avoid the significant risks to existing oil wells,' Dr Duffuor told Members of Parliament on Wednesday.
He was reading the second-term-seeking Mills administration's last budget statement for a first term that has seen what the opposition New Patriotic Party has repeatedly called 'a string of failed promises and incompetence.'
'In August 2011, this House mandated Government to negotiate and sign the MFA,' said the former Bank of Ghana head, who is now President Mills' economic and finance management chief.
In October this year, President Mills drew a barrage of opposition criticism when he claimed he was not aware of a borrowing cap on Ghana. Speaking to journalists upon arriving from the UN General Assembly, the President raised doubts about claims by the Minority group in Parliament that the government had violated an agreement with the IMF on borrowing, arguing he was not aware of any agreement with the IMF that restricts Ghana on the amount of loans it can access in a year.
'I am surprised that people are putting a spin on this. They [IMF & World Bank] are very supportive. They know we need the assistance for infrastructure development. I haven't spoken to the Minister of Finance, who would be the best person to sign such an agreement, I really don't know their (Minority) source, so I cannot firm, or even deny….if there was any such development, it would have been brought to my knowledge,' President Mills said then.
However, days after the President made those claims, a 'Letter of Intent, Memorandum of Economic and Financial Policies, and Technical Memorandum of Understanding' dated May 12, 2011 and signed between the International Monetary Fund and the Republic of Ghana, emerged in the public domain, exposing what Minority MPs have called 'the President's lack of knowledge of what commitments his own government has made to foreign donor agencies.'
Page 17, Section D of the said document, titled 'Public Debt Management' specifically states that 'In 2011, commercial borrowing will not exceed $800 million.'
It goes on to say: 'GNPC envisages a commercial borrowing need of $300 million, in large part to cover its share of investments in the oil and gas sectors. Outside the oil and gas sectors, the government plans to limit new commercial borrowing to $500 million.'
The IMF has reportedly threatened Ghana with severe sanctions, if it violates its rules, but a defiant Dr Duffuor told the Parliament today the government intends to go ahead with the transaction, which had earlier been approved by the 230-member legislature at a special sitting in August, but without a single vote of support from the Minority.
Dr Duffuor told the House: '…The US$3.0 billion loan facility from China Development Bank (CDB) would be utilised to reduce the infrastructural deficit of the country by undertaking a number of infrastructure projects in the oil and gas, road, rail, health, education, water and other sectors, consistent with the GSGDA priorities.'
He added: 'Specific projects identified to be funded by the CDB loan include: Accra Metropolitan Area Intelligent Traffic Management Project; Accra Plains Irrigation Project; Coastal Fishing Harbours and Landing Sites Project; Eastern Corridor Multi-Modal Transportation Project; Western Corridor Gas Infrastructure Project (Helicopter Surveillance Fleet for Western Corridor 'Oil Enclave'); Western Corridor Petroleum Terminal Project; Western Corridor Infrastructure Renewal Project (Western Railway Line Modernization and Takoradi Port Rehabilitation/Retrofit); Sekondi Free Zone Project; Development of ICT, Enhanced Surveillance Platform for Western Corridor 'Oil Enclave'; and SME Projects Incubation Facility.
'Madam Speaker, these projects have the potential to significantly transform Ghana's economy. For example, the Accra Plains Irrigation Project will irrigate 5,000 hectares in a priority area for a mixed cultivation regime targeting approximately 60 per cent of irrigated area for agribusiness; 20 per cent for large scale farmers; and 20 per cent for small scale farmers. Developing the multi-modal transportation infrastructure will enhance the cost-effectiveness of freight handling corridors linking the Tema Port via the Volta River to a) the Savannah Accelerated Development Zone, and b) land-locked countries (Burkina Faso, Niger, and Mali). It would also facilitate access to the Afram Plains, Accra Plains and areas of the Volta region that have great potential for developing agro-industrial and fishery ventures.
'Madam Speaker, Government will ensure that each project is supported by robust feasibility and financial viability studies. The disbursement of funds for the projects will be scheduled for consistency with the agreed programme targets with the IMF and World Bank, and the medium term fiscal sustainability plan.'
Source: Citifmonline