Kenya offers troops for AU Somalia force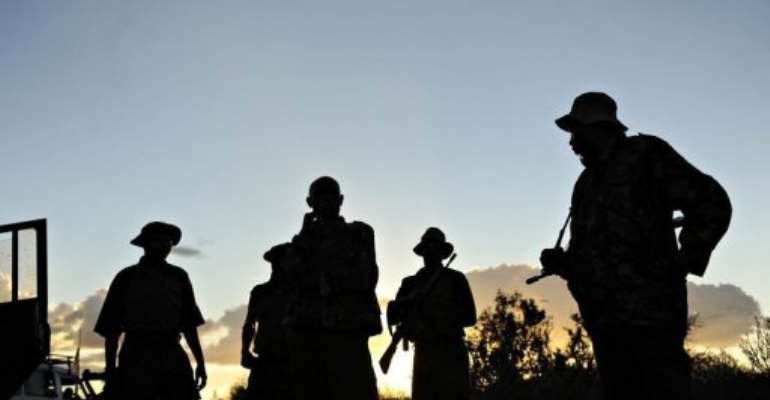 NAIROBI (AFP) - Kenya said Wednesday it was willing to send troops to join the African Union force in Somalia, one month after it sent its army across the border to fight Islamist Shebab insurgents.
Following talks in Nairobi between the presidents of Kenya, Somalia and Uganda, Kenyan President Mwai Kibaki's office said in a statement that the meeting had "welcomed Kenya's willingness to deploy troops to AMISOM."
The African Union Mission for Somalia (AMISOM), currently comprising 9,700 troops from Uganda and Burundi, is tasked with protecting the Western-backed government from the extremist Shebab militia.
The statement did not say if Kenyan troops already inside southern Somalia would be included in the force, or whether the contribution would consist of a separate new batch of troops.
Kenyan troops fighting inside Somalia alongside Somali government troops, "presents the region with a historic opportunity to restore stability and security in Somalia," the statement added.
The leaders stressed the need for "enhancing coordination between AMISOM, TFG (the Somali government) forces and Kenya Defence Forces in order to successfully defeat Al Shebab."
The meeting between Kibaki, Ugandan President Yoweri Museveni and Somali President Sharif Sheikh Ahmed also "noted with appreciation the decision of Djibouti to provide troops to AMISOM," the statement read.
The leaders called on other African countries that have pledged troops to AMISOM "to urgently fulfil their pledges."
Sierra Leone promised in August to send a battalion of 850 soldiers after April 2012.
The AU has repeatedly called for the swift deployment of 3,000 more troops authorised by the United Nations last year, especially after Shebab pulled out of fixed positions in the war-torn capital Mogadishu in August.
AU troops have been battling the Al-Qaeda linked Shebab for four years in Mogadishu, but are currently not deployed outside the capital.