Cocoa beans to waste, as Dockers strike over poor pay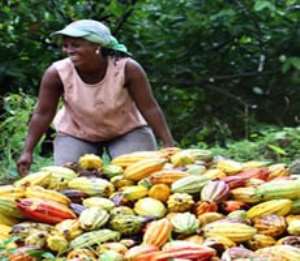 Over one 1,000 haulage trucks loaded with Cocoa beans are stuck at the Commodity village, a Ghana Cocoa Board Ware House at Apowa in the Ahanta West District of the Western Region following agitations by Dockers for an increment in their allowances.
Haulage drivers and their mates demonstrated on Monday to compel the authorities to step in and get the dockers to work.
The drivers, who hitherto spent about days to off load their trucks have spent two weeks at the commodity Village and are still not sure when their trucks would be offloaded.
The situation according to them is having a serious toll on their business.
Monday's protest by the drivers caused heavy traffic congestion on the main Takoradi-Cote D'Ivoire road as the angry drivers blocked the entrance to the warehouse by burning tyres.
They told Radio Maxx in Takoradi that if the situation is not addressed it would affect the quality of the beans and are therefore appealing to authorities to intervene.
"The cocoa beans can be infested, when this happens, the inspectors at the port would demand money from you the driver before they off load your truck. We are appealing to them to off load our trucks so we can leave. We are giving them one week if they do not come to work we would block the roads and the worse would happen".
The Dockers, who have refused to off load the cocoa for storage and subsequently to the Takoradi harbour for export, say the 13 Ghana Cedis paid each docker daily for carrying over 350 bags of cocoa is woefully inadequate.
Currently being paid by private companies contracted by Cocoa Marketing Board CMB, the Dockers insist that until their demand is met, they would not resume work adding that they would resist attempts by any group to offload the trucks.
"We are being paid 13 Cedis, whilst people who only pick the remnants of the cocoa get 12 Cedis which is not fair. We were angered by the attitude of one officer and that led to the strike. A group of 16 people loads about 180 tonnes of cocoa which is about 2880 bags. We have been cheated for too long. We do not care how long the strike takes because the cocoa does not belong to us. The drivers cannot decide to do the loading themselves because if they do, my colleagues would beat them up. Besides they would need to be trained for about 2 months to be able to carry the cocoa" a frustrated lamented.
The drivers prevented staff of produce buying companies from entering the yard. The Ahanta West District Chief Executive, Joseph Dofoyena who met the drivers has promised to meet the authorities involved to resolve the situation.


Story by Ghana l Nana Adjoa Entsuah/Radio Maxx/Takoradi