NDC has failed Ghanaians, we need change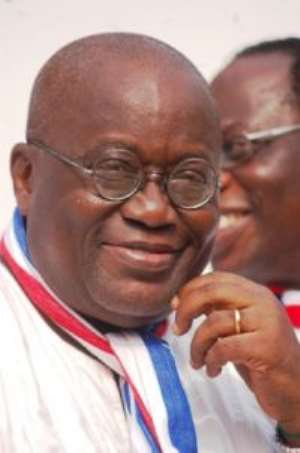 Nana Akufo Addo, NPP Presidential Candidate for Ghana's elections in 2012 told a packed auditorium at a town hall meeting organised for him by the NPP UK and Ireland Branch at Wimbledon College in the southern part of London that the country is crying out for real change and not the fraudulent change being fostered on it by President Mills and his ministers.
He told the gathering that the NDC came to power with a basket of promises on the mantra of a better Ghana but they have emptied that basket into the sea and rather submerging Ghanaians with extremely high taxes, unemployment, high water and electricity bills and thousands of young people dropping out of school due to a high failure rate
Nana Addo told the audience that it was important that the decline in educational standards is reversed. He lamented that the government was playing politics with the lives of children by reducing SHS education to three years creating a huge backlog and not making our children competitive to address the challenges of the future. Our youth have been reduced to playing cards and gambling, ludo and draughts instead of staying in the classrooms.
He said his flagship policy of Free Education to senior High school level will create an opportunity for our young people to come out of school with a clear choice and preparedness for academic or vocational education. A country cannot develop without a strong base in education, a skilled workforce and a robust environment that allows for businesses to create jobs to employ people.
  Nana Addo said everybody deserves a fair chance in Ghana, NDC's policy of looking after a few to the detriment of many is a huge failure and that the recent strikes by doctors, nurses, teachers and the ongoing agitations on the labour front show a government that has clearly lost its way. Our country under mills has been reduced to a culture of insults instead of ideas,backwardness instead of progress and intolerance instead of compassion and understanding.
Nana Addo said it was time for Ghanaians to make a strong statement in 2012 that poor leadership , lies and propaganda cannot develop a nation.
"We need strong internal markets for our farmers, we need jobs for our youth, we need an integrated water supply system that takes water to every household, we need to provide security for our people so individuals don't go about seizing toilets and car parks. Why is Mills sitting down   with his arms folded promoting a culture of lawlessness?" he asked to a standing ovation.
Nana Addo appealed to those present to ensure that their friends, families and loved ones register in their numbers when the registration excercise begins. He told Ghanaians present to join hands with him and support him to win the election so we could all buid a Ghana we can be proud of.
Other speakers included Hayford Atta Krufi, NPP UK and Ireland Chairman, Dr Vincent Magombe, Director of African Inform International and Ursula Owusu, NPP parliamentary candidate for Ablekuma South.
 
 
Nana Yaw Sarpong
Communications Officer
NPP UK and Ireland