Traditional chiefs take on Ivory Coast's post-war ills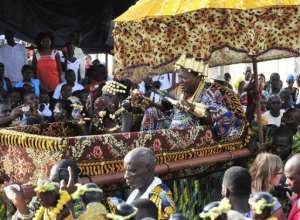 "His Majesty" presides over the annual Abissa festival of the N'Zima people. By Sia Kambou (AFP/File)
BASSAM, Ivory Coast (AFP) - Could crowns, sceptres and ritual sacrifices save Ivory Coast? Some of its traditional chiefs are seeking to help in the reconciliation of the long-divided country, but not everybody agrees.
Sporting an enormous crown and a multicoloured robe, Awoula Amon Tanoe, king of the small Ivorian tribe called the N'Zima Kotoko, is a man who parts the crowds, carried by strong porters to the sound of a sacred tam-tam.
"His Majesty" presided this month over the annual Abissa festival of the N'Zima people, which drew thousands of visitors to Bassam, the former colonial capital which is close to Abidjan and renowned for its beaches. The theme for 2011 was "reconciliation".
A career diplomat in his 70s, Aman Tanoe was named vice president of the Dialogue, Truth and Reconciliation Commission (CDVR) set up by President Alassane Ouattara at the end of September, after years of conflict in the west African nation.
The king represents traditional chiefs who play an important part in this country whose 20 million residents are divided into dozens of ethnic groups, particularly in the countryside, where one's tribal ties are the key to one's identity.
Amon Tanoe believes "we must draw energy from our traditions to enable us to put the crisis behind us" -- a reference to the power struggle that broke out in December last year when former president Laurent Gbagbo refused to recognise defeat at the polls. This eventually led to a war in which 3,000 people died, after a decade of political turmoil including a rebellion.
Catharsis should begin "with a period of grieving, during which we should make all the ritual sacrifices," the tribal king told AFP in a discreet villa, which is a stark contrast to his flamboyant palace.
"Too much blood has been spilt on the soil of Ivory Coast. The population, wherever they come from, cannot feel appeased and live together so long as these rituals have not been accomplished," he said, calling for the sacrifice of sheep and chickens and the pronouncing of ancestral formulas.
The CDVR has been slow to get under way. But former prime minister Charles Konan Banny set the tone when he was invested as its president, saying that "just as one cleans a wound of its dirt before treating it", Ivory Coast's communities must carry out their "purification rites".
For Aman Tanoe, the country must "turn to the chiefdoms" -- its 12 kings, about 11,800 village chiefs and 145 tribal leaders -- to achieve reconciliation.
But will traditional chiefs succeed where the political class has failed?
Amoa Urbain, a professor and specialist in Ivorian cultures, is not ready to discount the notion.
They could "do a lot during reconciliation if a chief has great renown in his region, if he has the power to back up what he says.
"On the other hand, if the chief is a puppet, he will be knocked about," said Urbain, referring to those used by locally elected power-brokers, who are in it for the money and the votes they can muster during elections -- a widespread practice that detracts from the respect given the chiefs.
Others disagree. Gisele Aka, a trader from Bassam at the Abissa festival, said the traditional chiefs cannot serve as arbitrators because "they belong to political parties" and "divided the villages" during the crisis.
"Traditional leaders should steer clear of politics," agreed Jean Gervais Tchiffie Zie, a minor Bete chief -- who comes from Gbagbo's ethnic group -- as he sat on his skin-covered throne in his fine house in Abidjan.
The comment was an about-face for Tchiffie who was propelled by the late Libyan "Guide" into the post of secretary general of Moamer Kadhafi's initiative known as the "Forum of Kings and Sultans of Africa", a political arena.
Last March, in front of a zealous crowd of Gbagbo supporters in Abidjan, Tchiffie Zie defended his Libyan mentor in the face of the rebellion that would later see him defeated and killed.
If he was clad completely in black at the time, Tchiffie Zie, who nonetheless espouses Ouattara's "reconciliation", was not mourning Ivorians victims. He was mourning Kadhafi, "the king of all African kings."