54 communities to be hooked to national grid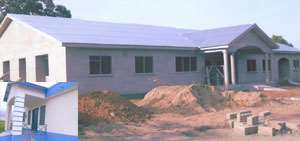 INSET: The Bugubelle Police Station, The Divisional Police Headquarters under construction at Tumu
Fifty-four communities in the Sissala East   District of the Upper West  Region are to be connected to the national electricity grid before the end of the year.
The initial 20 communities to benefit from the first phase, for which the necessary mapping and ground work have been completed, and the electricity poles already acquired, are Jijen, Dolibizon, Bichemboi, Sentie, Kasana, Kasanpuri, Nabulo, Fachuboi, Challu, Pieng, Pina, Kuroboi, Mwanduonu, Wuru, Dimajan Nos. 1 and 2, Naverowie, Bassisan, Banu, Kwapun and Bugubelle.
The District Chief Executive, Alijata Sulemana, told Upper West File exclusively, that the project, which will be undertaken under the Self-Help Electrification Project, would ensure that all the 54 communities in the district are connected to the national grid before the end of the year.
She said besides connecting the initial 20 communities to the national grid, the assembly has also provided Tumu, the district capital, and other adjoining communities with 120 street lights, while plans have been made to extend it to all communities in the district, emphasising, 'By the end of 2012, all the 54 communities in the district will have been connected to electricity and street lights provided for them.'
Alijata said all communities to be connected to the electricity grid will also be provided with some facilities to improve local industries like dressmaking, hairdressing and shea butter production among others.
The DCE noted that following President Mills' belief that electricity would provide better living conditions and improved lifestyles for the people, it was the government's commitment to improve the living conditions of rural dwellers, and enable them engage in economic generating activities.
Alijata Sulemana said the provision of the electricity formed part of the government's 'Better Ghana Agenda,' under which the assembly was mandated to ensure that the livelihoods of the people are improved, hence the assembly's commitment to the electrification project.
The DCE disclosed that shea butter and soap making extraction centers had been established in Pieng and Chinchang respectively, and that plans were underway to provide more economic generating activity centers in the district to empower the people, especially, the women folk.
She further stated that her outfit had consciously embarked on several other projects in the areas of health, agriculture, road construction, education and security, all in the name of developing the district and empowering the people economically and socially.
DCE Alijata said the Assembly had provided Tumu, Bugubelle and Wellembelle with new police stations at the cost of GH¢278,144.90 to improve the security situation in the district.
She indicated that the construction of the police stations at Wellembelle and Bugubelle by the Assembly, with funding from the DDF, are yet to be handed over, while the Divisional Police station at Tumu was about 70% complete.
Alijata Sulemana also said health facilities, including two community-based Health Planning Services Compounds (CHPS), had been constructed, and the bungalow for the district hospital also renovated.