Kenya's political gamble in Somali border regions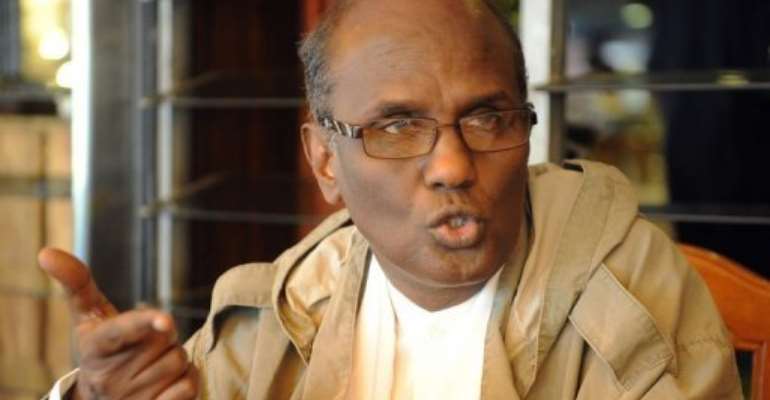 NAIROBI (AFP) - Kenya's hopes of creating a border buffer zone in southern Somalia called Azania have been raised by its military incursion there last month, but analysts warn of high risks of such a political gamble.
While the Kenyan government has said it sent its troops and tanks across the border to target Islamist Shebab rebels, analysts say the move appears to be aimed at setting up a proxy administration and region of control.
"It is understandable why the Kenyan government would want a buffer between themselves and the chaos in Somalia in general and any spillover of Al-Shebab's militancy in particular," said J. Peter Pham of the Atlantic Council think-tank.
Creating some stability in Somalia's border region would also provide Kenya with a strong argument to relieve the vast Somali refugee population it hosts including Dadaab, the world's largest refugee complex.
"I think that the strategic objective for Kenya is basically to see those camps shut down and the people go back to their country," said Rashid Abdi of the International Crisis Group.
"Kenya is a signatory to the refugee convention and the humanitarian laws, so it cannot force refugees back home."
For over two years Kenya has trained troops supposed to form the backbone of a new security administration inside Somalia, covering the southern regions of Gedo, Lower and Middle Juba, together also known as Jubaland.
The head of that administration in waiting is former Somali defence minister Mohamed Abdi Mohamed -- also known as Gandhi -- a French-educated academic.
"He has a very huge challenge in front of him. ... Gandhi has credibility and his name has not been tarnished, but he has not done enough grassroot political networking," Abdi said.
"He is very much disconnected," he said, adding: "Now there is a security reason for that: he cannot travel as much as he wants inside Somalia."
The declaration of Gandhi as leader and the formal establishment of Azania was announced in Kenya in April, a month after Kenyan-backed troops failed to make military headway in southern Somalia.
But Gandhi, who not only comes from the diaspora but also a minority sub-clan in the area, faces potential reluctance of neighbour Ethiopia and the Somali government to back his efforts.
"This is not someone who has blood on his hands as others have, but in Somalia, I'm not sure he carries much political weight," said Roland Marchal of the Paris-based National Centre for Scientific Research.
"The fact that he has been a member of the diaspora for many years, belongs to a minority clan and is very secular in what he says" could weaken his position in a Somali context, Marchal said.
"So Gandhi needs a helping hand from the Kenyan army," he added.
Even if he can win a partial victory over the Shehab, Azania would face the rivalry of other powerful militias, including the Ras Kamboni fighters of Ahmed Madobe, from the main Ogaden clan branch in the region.
To complicate matters further, senior Kenyan military officials have close links with Madobe -- who sees supporting minority clans, including the Tolomoge clan of Gandhi, as a potentially risky move.
Until Gandhi "actually raises a credible military force that can take control of the region's claimed territory away from the militants, "Jubaland" remains nothing more than a fantasy played out by ineffectual Somali politicians marooned in Nairobi," Pham said.
Then in Gedo, an anti-Shebab militia from the Marehan clan called Ahlu Sunna wal Jamaa -- backed financially and military by neighbouring Ethiopia -- have indicated they would reject the authority of an Azania "government."
In addition, the potential lucrative income from the Shebab-held port city of Kismayo could trigger fierce battles between rival militia armies -- if ever the Shebab fighters are indeed driven out as Kenya hopes.
Pham also noted that even if a buffer zone is established, its creation is already too late, warning that the Shebab had operatives inside Kenya.
"Even if the 'government' of 'Jubaland' helps seal off the Kenyan border, how much that would actually improve the security situation remains to be seen given that the threat is already in place."