E. Guinea opposition rejects referendum win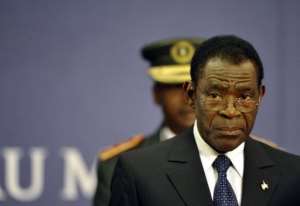 Obiang has embarked on a charm offensive to improve his image. By Eric Feferberg (AFP/File)
LIBREVILLE (AFP) - Equatorial Guinea's small but vocal opposition on Monday ridiculed official results of a referendum showing 99 percent of voters approved President Teodoro Obiang Nguema's new constitution.
The oil-rich west African country voted Sunday on a constitutional reform that caps presidential terms but could allow Africa's longest-serving leader to cling on for years whilst grooming his controversial son for succession.
With 60 percent of votes counted, "99.04 percent voted yes and 0.96 percent no," Information Minister and government spokesman Jeronimo Osa Osa Ecoro announced overnight, adding that definitive results were expected on Wednesday.
Equatorial Guinea was long seen as one of Africa's most brutal and corrupt regimes but Obiang, now at the helm of sub-Saharan Africa's third oil producer, has embarked on a charm offensive to improve his image.
The proposed constitution limits presidential terms to two seven-year mandates but does not specify how Obiang himself, whose current tenure ends in 2016, will be affected.
It also creates a post of vice-president, a move the opposition and observers see as the first step towards handing power over to the president's big-spending playboy son Teodoro Obiang Mangue.
"It is a completely irrational dictatorship. Results topping 90% are the sign of a totalitarian regime. These results are fraudulent and have been fabricated," the country's only opposition lawmaker Placido Mico told AFP by phone from Malabo.
Daniel Dario Martinez, who heads Equatorial Guinea's other opposition party, was equally dismissive of the results.
"These results are false... There was no election here. He (Obiang) wants to move his son into the presidency, everybody knows that, and that's what this reform is about," he said.
The first son, nicknamed Teodorin, is reviled by many for his lavish lifestyle. He is best known for his love of sports cars and champagne and his $31-million home in Malibu, California.
Mico on Sunday pulled his agents out of polling stations, citing widespread irregularities and the intimidation of his supporters.
A young supporter of his party "was threatened with being tortured by a colonel" at a polling station in the capital Malabo, he said, adding that votesr were facing pressure across the country and predicting a low turnout.
About 300,000 Equatorial Guineans were eligible to vote.
Osa Osa Ecoro said the vote passed off peacefully and said the outcome "was a good thing for Equatorial Guinea. It is a project for the political, economic, social and cultural future. The people are delighted."
Obiang, 69, is serving his fourth seven-year term since he seized power in a 1979 coup, usurping his notoriously ruthless uncle Francisco Macias Nguema who was executed by firing squad.
In much criticised elections in 2009, Obiang received 95.37 percent of the vote and in 2002, 97.1 percent.
He organised the referendum because he "wants his country, long ignored or despised, to acquire a diplomatic status that matches its new financial weight," said a diplomat, speaking on condition of anonymity.
The regime says the new constitution would also impose more checks and balances on the executive, improve the judicial system and ensure better protection of civil rights.
But opposition leader Mico criticised a lack of consultation ahead of the vote.
"No one has seen the text, not the cabinet or any official body," he said. "We are submitting a text to a referendum that no one has seen. It's an invisible text."
In the mid-1990s oil was discovered in the little-known nation. Today, it is the continent's third sub-Saharan oil producer behind Nigeria and Angola.
Obiang has in part used oil revenues to bankroll a series of infrastructure projects, including those to accommodate the 2012 Africa Cup of Nations football tournament, which Equatorial Guinea will co-host with neighbouring Gabon.