Much Ado about Kevin Prince Boateng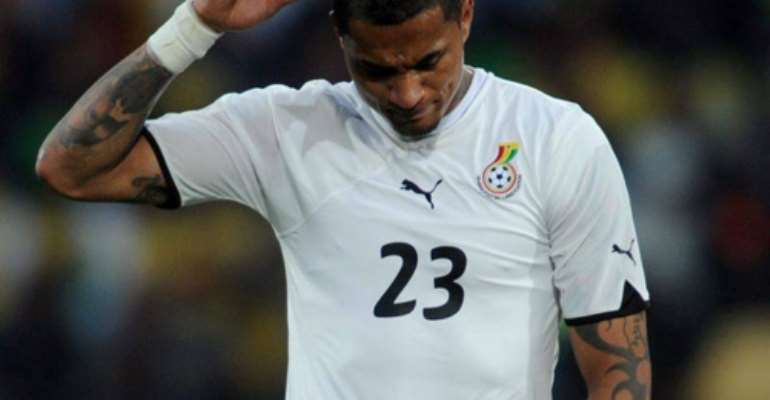 Kevin Prince Boateng's absence during the 2012 Nations cup will no doubt be a blow for Ghana. During the 2006 AFCON, when we missed our best footballer Michael Essien, the writing was on the wall even before we kicked a ball. In 2008 Essien was back in the fold but the talismanic Appiah was out and it was telling; then in 2010 when we missed both Appiah and Essien, our chances were greatly affected even though our gallant troops matched on to the finals to the surprise of many football connoisseurs – the cup once again eluding us at the final hurdle. Next year we will be attempting to recapture the Cup that has eluded us for 30 years, but this time also, we have just lost one of our best and most 'in-form' player in Kevin Prince Boateng.
Now one would agree that this is becoming a rather unpleasant trend for Ghana. Let's not ignore or overlook the real issues by shifting the blame but let's take stock and find out how best we can manage the situation, put our players in the right frame of mind and adequately prepare them now that we have enough time. Tournaments are won by thorough preparation and having the big players ready and available. There is no shortcut round this.
I am always annoyed when Dr. Nyaho Tamakloe lashes out on players at occasions like this without much thought and never once acknowledging the faults and failings of the GFA. He reminds me of an old time schoolteacher who believes "the master is always right and the student is always in the wrong" - sheer self-centeredness and narrow mindedness. Ghanaians should note that this man is only known for being harsh and hot headed but not for his record at the helm of the GFA; it's therefore no surprise that he has no advise for the GFA when things don't work for Ghana football. He is asking the GFA to ignore our brothers who happen to be born and raised abroad because of what one guy has done; with the assumption that every player born or raised abroad will only want to take advantage of Ghana. For the Black Stars to achieve great success, we need to augment the team with the best players we have worldwide and we cannot stop that on the basis of one rather bad experience.
What I expect the GFA to do is to learn from this experience. Players like Kwaresey, Schlupp, Emmanuel Frimpong, Hans Adu Sarpei, Tony Baffoe etc. always wanted to play for their motherland not out of rejection by the countries of their birth but out of the pride of "being and feeling Ghanaian". These are good examples we have to appreciate. Owusu Abeyie for example, has always availed himself to Ghana ever since he pledged his allegiance to Ghana in spite of the personal challenges he faces both culturally and with the usual team selection politics. It's never easy for these players to come and get used to the Ghana dressing room banter. Let's not underestimate the challenges the cultural differences pose when they join the fold in spite of the warm welcome extended to them. The dressing room banter, politics and egos do not settle nerves at all and it takes a lot of grit and effort to settle in and find one's feet. What the GFA has to ensure is that there are senior people available to help, support and mentor these new additions. It's well known that Stephen Appiah's greatest strength was how he took great pains to ensure the local players joining the setup felt at home – imagine how the foreign players must feel.
The GFA has a way of using players and then discarding them like chaff when they are past their best and their services are no longer required, but one of the great secrets of Manchester United's Alex Ferguson is his uncanny knack for retaining old players in the dressing room for as long as he can. Ole Gunnar Solskjær, Ryan Giggs, Paul Scholes and Micheal Owen were (are) still part of the team even though they were (are) clearly past it. They double up as mentors for the junior players coming through to help them settle in a dressing room. They avail themselves to the players and are useful for just their presence, advice and mentorship in times of pressure and loneliness. They are used as mentors because they have been there, survived and won trophies. Ghana could borrow a leaf from Manchester United's succession regime.
Ghana needs to keep players like Hans Adu Sarpei and Richard Kingston around; the latter is the most experienced keeper we have and should be invited just to hang around the team. Reverend Osei Kofi and the rest of the older generation are good to have around but young players would like to see the big players they looked up to whilst growing up and not historical legends they didn't even see play. Hans is German, and he is one great foreign success we should be proud of, he is experienced and was our best and most reliable left-back in times past; a humble, good mannered chap with bucket loads of leadership potential who can no doubt be a mentor to the German born players coming into the fold. Kingston has two World Cup appearances under his belt, has been a captain of the team and despite an injury on one leg, led a young Ghanaian team to the finals in the last AFCON. This is a caliber of person Kwaresey would love to be looking up to for advice and pep talk.
Recently retired players mixing it up and imparting to the team can only prove beneficial and also shows the young up and coming footballers that Ghana appreciates their old heroes. Sarpei's mentorship would be useful for Schlupp, Kevin and Takyi as opposed to the rap of Hip-Life star Asamoah Gyan. These folks need a buddy and a mentor in the dressing room. Currently, the guy with the number "1" badge is a new foreign keeper, who probably doesn't speak the lingua franca and therefore doesn't get what the dressing room banter is all about, yet he has been thrown into the mix with so much responsibility but no buddy or mentor - his experienced predecessor disbanded, yet we see nothing wrong with that.
Another thing the FA could do is to ensure that all players (not just our foreign legion) sign an agreement of some sort to honor national calls when they join the senior squad, a penalty of which would be equivalent to the importance of the match they fail to honor. Also, a player has to give 3 to 4 months notice before retiring from the national setup. This would surely make it difficult for players to take advantage.
Now lets discuss Kevin specifically: a lot of people have been vilifying the guy with curses and even threats to kill him but this is wrong. I am sure by our very nature, these calls are out of anger and no harm is intended; I am also very disappointed he has chosen to desert Ghana at such a crucial time but this is a guy who said he made the decision to play for Ghana with his head and not with his heart - we could have taken a clue from that but we didn't. We needed him regardless and hoped he would have a change of heart once he jelled with the team. In hindsight we should have worked harder at getting him to bond with the team but it didn't happen. Good management demands that the best soldiers get perks to keep them motivated especially when they are clearly unsettled. I believe for example that he should perhaps have been allowed to play that England game even as a second-half substitute just to bond with the players. Good leadership means one has to have the ability to keep all members of the team motivated. Unfortunately, it's an occupational hazard but an essential skill for the job - that's why the coach is on $53,000 a month.
Prince never really got to bond with the team and it was clear he was unhappy when he started giving excuses when called upon to play for Ghana; he not seeing eye to eye with Coach Plavi wouldn't have helped either, and may have contributed to his alienation from the team. You can be sure that Muntari, Essien, Appiah etc. stay in touch on weekly basis, Ayew and Gyan get on very well but who kept in touch with new boy Kevin?
Ghanaians are the most friendly and welcoming people on this planet but we need to work on showing the same love to our own.
I personally do not think we have a good coach and I can almost stick my neck out and say that his people skills is his Achilles heel; even though he was new to the set up himself he started to alienate certain players. There is a way of being firm without making players feel disliked or alienated. Even the impression itself, is not something the GFA should entertain and I am sure Kwesi Nyantakyi, as smart as he is, recognized this and did his best to sort out the differences between Kevin and the coach. Successful coaches manage to get the best out of players in spite of their foibles. Despite being punished by the club, the egotistic Carlos Tevez of Manchester City FC for example, has had his coach Mancini always extending an olive branch and assuring him of his place in the team as long as he tows the line. I also believe our captain John Mensah should be doing more to make the new faces (both foreign and local) settle, as this is part of a captain's job.
Now to Ghanaians: Why are we as a people so fussy and critical? I personally find it very hypocritical.
How do you consider Ghanaian citizens who graduate from our universities and go abroad without doing their national service - have these not taken advantage of Ghana?
How do you consider a politician who educates his children abroad with money meant for the development of a town or village, thereby denying them their right to basic amenities like water and electricity– has he not taken advantage of Ghana?
What about the government officials who negotiated the sale of Ghana Telecom to Vodafone for a pittance in exchange for kickbacks – did they not take advantage of Ghana?
Take a look at the rate at which mining companies are degrading our lands in Ghana. The Ghanaian government negotiated only 3% in royalties from Newmont after which our learned parliament voted in favor of that figure. MPs had to be coerced and cajoled into towing the line when they queried the ridiculous percentage Ghana stood to receive from Newmont – yet these people are not said to have disappointed, insulted and betrayed the people of Ghana. However, when a footballer takes advantage of his dual nationality to play for Ghana when we need him and decides later to concentrate on his club career, it is he who rather has betrayed, insulted and disrespected Ghana 'sin precedentes'.
So let the shortsighted Nyaho Tamakloe go ahead and shut the doors to anybody born and raised abroad because of Kevin's actions.
Let's take note of Emmanuel Frimpong's decision to commit his future to Ghana and how it has affected his playing time at Arsenal; rumors are rife that he may be loaned to a lower division club. This is a typical example of a sacrifice that a young diasporan player has made which may go unnoticed. It's indeed an honor to play for one's country but this is testament that for our foreign legion, the price can prove very high - a sacrifice we need to appreciate.
I am also disgusted by the way the local players are overlooked but as the coach rightly observed, the local teams should be aiming at continental club competitions to ensure that our players get the necessary exposure to sharpen their skills. Great players like Addai Kyenkyenhene, Opoku Afriyie, Polo, Razak, Anas Seidu, George Arthur, Opoku Nti and all were competing at the highest level of African football before they were able to translate their experience to the national team. Nyantekyi and the GFA have work to do and I am confident that they will learn from past mistakes and focus on the local league to turn it around.
Finally I just want to say that to win the AFCON 2012, we need to prepare well; so far all our plans have fallen through. Our purported friendly with Mexico and Guatemala was cancelled, then it was rumored later that it was going to be Ivory Coast and Senegal, which also failed to materialize, later it was announced by the GFA that it was going to be with Sierra Leone and Gabon, the match with Sierra Leone was canceled at the last minute. This November, when the other two AFCON 2012 favorites Ivory Coast and Senegal are playing two games, Ghana will be playing only one friendly match due to logistical issues.
Unfortunately, the effort of the squad and technical team meant to observe and discuss tactics on the game between Senegal and Guinea also proved futile and the boys resorted to watching the match in their hotel rooms.
Despite the fact that coach Akwasi Appiah had insisted that the two matches were going to be used to determine Ghana's selection for the AFCON, there has been no criticism of the shoddy organization by the GFA.
Come Tournament time, if Ghana doesn't achieve its aim of winning the Cup, I hope Ghanaians will remember and be circumspect about our poor preparation and not about Kevin Prince Boateng.
A word to the wise….
Frederich Maafo