Liberian opposition calls mass rally after disputed poll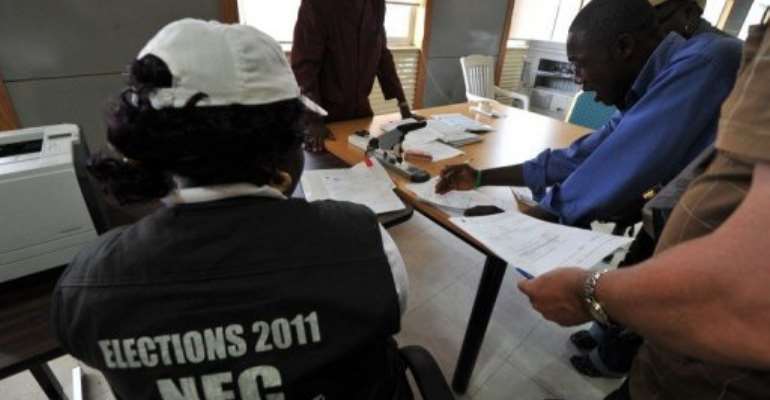 MONROVIA (AFP) - Liberia's main opposition called Sunday for a mass rally for the funerals of victims of pre-poll violence amid demands that a presidential election won by incumbent Ellen Johnson Sirleaf be re-run.
The Congress for Democratic Change said it would stage the rally on Monday or Tuesday after consulting with the families of those killed when police opened fire on an unauthorised election-eve demonstration in Monrovia.
"We are holding consultations with the families of the dead people and we want to bury them before the rally. We will see if we will do it tomorrow (Monday) or Tuesday," CDC deputy campaign manager George Solo told AFP.
"If we have to bury our people we will march through the streets of Monrovia with their bodies."
CDC candidate Winston Tubman pulled out of Tuesday's run-off citing fraud and called for Sirleaf's victory to be annuled.
Pick-up trucks roamed the streets of the crumbling seaside capital late Saturday with loudspeakers blaring CDC party songs as party workers handed out flyers calling for a mass rally.
The leaflets showed pictures of the bodies of three opposition demonstrators allegedly killed in the protest, and called for a "revolutionary funeral" to honour them.
The flyers said the Nobel Peace Prize, awarded to Sirleaf in the week before the election, had been "bloodied" by the violence.
Tubman's supporters had gathered at CDC headquarters last Monday and tensions rose as they attempted to surge into the streets for an unauthorised march, throwing stones at police who then fired live rounds into the crowd.
AFP journalists saw two bodies, and the UN confirmed two deaths, though no official toll has been released.
The violence rocked the west African nation's fragile democracy eight years after the end of a 14-year civil war that killed 250,000.
But international observers gave the polls a clean bill of health and war-weary Liberians seem eager to turn the page.
"I think calling for a re-run of the election will further deepen the divisions that already exist in our society," said private security consultant Bart Moore, 41, in Monrovia.
"I believe what the CDC should do now is to abandon their ambition for a re-run to allow the country to move forward."
Engineer Peter Sumo, 38, said he believed that CDC leaders were "wasting their time".
"They have good prospects of winning future elections and I think they should accept the result and allow the country to go on."
Tubman said on Friday that Sirleaf's re-election was "a political farce of the highest order and must not be allowed to stand."
"We believe everything that flows from Tuesday's elections must be annulled and a new round of elections scheduled in a month."
The secretary general of Sirleaf's Unity Party, Wilmot Paye dismissed Tubman's statements as "sheer madness".
"They want to gain relevance but we will not give it to them," he told AFP Sunday.
Sirleaf on Friday called for national reconciliation and named fellow Nobel Peace Prize laureate, women's right activist Leymah Gbowee as head of a new peace and reconciliation initiative.
The National Electoral Commission confirmed Sirleaf the landslide winner in polls with 90 percent of votes to Tubman's 9.4 percent, but Tubman says low turnout of 38 percent shows she lacks a legitimate mandate.
© 2011 AFP