Government to provide the needed logistics to improve standard of education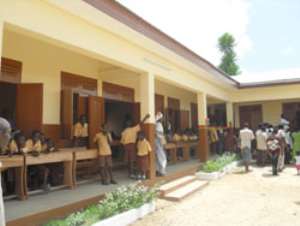 New Abirim (E/R), Nov. 11 GNA - The Birim North District Chief Executive, Ms Mavis Ama Frimpong, has stressed the commitment of the Government to provide the needed infrastructure and logistics to improve the standard of education in the country.
She said to that effect the district assembly had provided 1,500 dual desks and 3,000 exercise books for distribution to a number of basic schools in the area.
Ms Frempong said 67 students had been awarded scholarships to study in the various second cycle schools, Colleges of Education and nursing training institutions in the country.
She indicated that a number of classrooms had also been constructed for the various basic schools to improve the standard of educational in the district.
Ms Frimpong was speaking at the fifth final inter-schools quiz competition at New Abirim for Junior High Schools (JHS). It was organized by the Newmont Akyem Project.
She said due to effective measures put in place by the assembly and other educational stakeholders, the District obtained 57.4 per cent in this year's Basic Education Certificate Examination (BECE).
In an address, the External Relations Manager of the Newmont Akyem Project, Mr Oduro-Kwarteng Marfo, said the program was instituted five years ago to bring the basic school children in its operational area together to test their knowledge on a more competitive level.
He said the school children were engaged on topics such as the mining process, mineral exploration, mining words and their meanings and Newmont environmental baseline surveys.
They were also educated on the environmental impact statement document, moratorium declaration and the current stage of the Akyem Project.
Mr Marfo said the objective of the environment science program was to increase community participation in Newmont Akyem's activities and provide better understanding in the communities of the environmental control measures being put in place by Newmont.
The chief of New Abirem, Nana Kwesi Amo Kyeretwie, expressed concern about the poor performance of the public schools in the BECE in the district.
He urged educational stakeholders to ensure the provision of quality teachers to schools, provision of teaching and learning materials and to ensure proper supervision of teachers in the classrooms.
Holy Child JHS at New Abirem won the competition with 30 points and were presented with a giant trophy for keeps, a certificate, a computer and its accessories and four packets of exercise books for the school.
The contestants who represented the school were presented with school bags stocked with books, stationery, mathematical sets and exercise books.
The second position went to Afosu Roman Catholic JHS with 26 points, while Ntronang Roman Catholic JHS had 22 points and Afosu Local Authority JHS also had 21 points to place third and fourth respectively.
GNA