MOWAC to address challenges of maternal mortality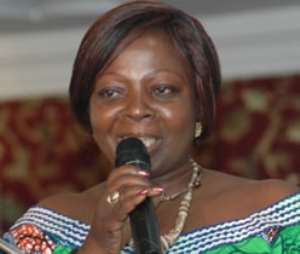 Accra, Nov. 11, GNA – The Ministry of Women and Children's Affairs (MOWAC) in collaboration with the Ministry of Health, is working to address challenges of maternal mortality relating to socio-cultural, gender issues and strengthening health systems.
These interventions include, repositioning and implementation of family planning policy and strategic plans, skilled deliveries, comprehensive abortion care and neo-natal care strategies.
Mrs Juliana Azuma-Mensah, Minister of Women and Children's Affairs announced this at the 2011 Annual General Meeting of Lady Pharmacists Association of Ghana (LAPAG) and its 18th Anniversary celebration in Accra on Friday.
The meeting was organised in collaboration with PZ Cussons, producers of Cussons Baby products on the theme: "LAPAG Leading in the Achievement of the Millennium Development Goals (MDGs)".
She said the Ministry had increased essential nutrition actions in therapeutic, complementary and supplementary feeding of infants, pregnant women, nursing mothers and People Living with HIV and AIDS.
Mrs Azuma-Mensah noted that the theme was relevant since maternal mortality ratio currently stood at a high rate of 350 per 100,000 live births and therefore made maternal health a national priority.
"The ratio is unacceptable and a dent on the capacity and capability of the health sector and associated agencies including MOWAC," Mrs Azuma-Mensah added.
She commended activities of LAPAG in public health educational campaign which complemented Government's efforts towards the improvement of maternal health and reduction of child morbidity and mortality, since it would accelerate Ghana's attainment of MDGs 4 and 5.
Mrs Azuma-Mensah noted that children are the future leaders of the country and therefore it is important that they are appropriately nurtured for their total development.
"They also need to be effectively immunised to strengthen their immunity system which is essential for their growth, survival and development," the Sector Minister added.
Ms Eunice Akosua Ofosua Amoako, National Chairman of LAPAG, said the association is working with its partners to promote good health care through on-going information, education and behavioural change communication programmes on reproductive health.
She said the association is joining forces in the achievement of the MDGs, improving maternal and child health focused on adolescent access to reproductive health care and services.
Others are informed home-based care for child survival and development.
"We individually create jobs, encourage, educate our families and relatives, promote gender equality and women empowerment to support environmentally friendly activities," she noted.
Mr Tidiane Asante, Marketing Manager of PZ Personal Care, expressed the hope that the collaboration aimed at improving on maternal and child health would be achieved.
He pledged management's support to the association in making life better for Ghanaians.
GNA