Two companies donate pesticides to cashew farmers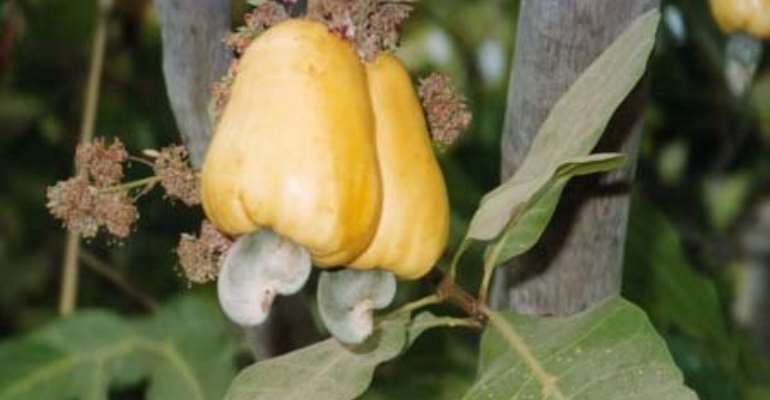 Sunyani, Nov.11, GNA – Two agro-based companies, West African Markets Link Company Limited (WAML) and Mim Cashew and Agro Limited have donated 50 cartons of cyperdem pesticides valued at about GH¢ 6000 for distribution to cashew farmers in the Brong-Ahafo Region.
Mr Winfred Osei Owusu, Chief Executive Officer (CEO) of WAML, who made the presentation on behalf of the two companies, said the package was part of their social responsibility policies.
He said the two companies were committed to supporting farmers to eliminate insects and pests that attacked the cashew tree in order to increase yield, hence the donation of the insecticides.
Mr Owusu pleaded with the government and other stakeholders to support the farmers with such inputs to assist them to manage their farms better to boost production, stressing that "we will be glad to see the kind of assistance giving to cocoa farmers being extended to cashew farmers by government".
Mr Emmanuel Asante Krobea, Brong-Ahafo Regional Director of Agriculture, who received the donation, said as compared to other crops, the cashew industry was a very young one that required assistance regularly.
The farmers and other operators in the industry have a lot of challenges which called for attention and support but the government, despite its efforts to meet those challenges, could not do it alone, he said.
Mr Krobea therefore appealed to other organisations to emulate the examples of the two companies and said the presentation would be of immense benefit to the farmers and largely promote the growth of the cashew industry.
Chief Adam Tampuri, General Manager, Ghana Co-operative Cashew Farmers and Marketing Association Limited, assured the companies that the items would be distributed fairy and equitably to the farmers in the industry.
He noted that cashew farming had come to alleviate poverty because whilst creating job for the rural folks, it was also generating foreign exchange for the country.
Chief Tampuri said one major strategic importance of the cashew tree was its unique quality of surviving even under harsh weather conditions.
He therefore appealed to government to encourage its cutivation, particularly in the transitional zone, to combat desertification.
He said the country's cashew production for 2010 was 27,000 metric tonnes while this year's production stands at 29,000 metric tonnes.
GNA