SHS: Catholic Bishops want computerized selection abolished; 4-year maintained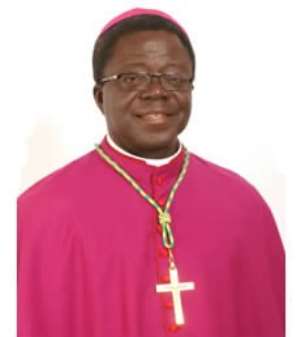 Most Rev. Joseph Osei-Bonsu
The Ghana Catholic Bishops' Conference is calling on Government to immediately abolish the Computerized School Selection and Placement System (CSSPS) due to what it terms corruption, confusion and inefficiencies in the system.
The President of the Conference who doubles as the Bishop of Konongo-Mampong, Most Rev. Joseph Osei – Bonsu made the call in Takoradi at the end of a one-week Plenary Assembly of Ghana Catholic Bishops' Conference.
This year's plenary Assembly discussed matters on the theme "Good Governance for Peace".
The Communiqué, which was issued to climax the assembly focused on the role of the church, politicians, MMDCEs, Parliament, the Judiciary and the Executive in achieving good governance and peace.
Touching on the role education plays in achieving peace and good governance, the President of the Conference, Most Rev. Joseph Osei-Bonsu, said successive Governments have over the years disrespected the views of Ghanaians on which direction the country's education should go.
He says the massive failure at this year's Basic Education Certificate Examination (BECE) and the inefficiencies of the Computerized School Selection and Placement System indicates that Government is not listening to the people.
He thus called on Government to abolish the Computerized School Selection and Placement System and replace it with a workable alternative.
"There appears to be as much, if not more corruption, confusion and inefficiency in this system as the former. After years of experimenting with the CSSPS, we think that the time has come to abolish this system to replace it with a workable alternative. Seven weeks into the first term, some students are still at home waiting to know which school to attend. The use of the internet to know which schools students are placed further complicates the process especially for students who have no ready access to this service".
The Catholic Bishops' Conference also wants Government to maintain the four year SHS duration system.
"The present Government and successive ones must take note that there is a quiet but growing anger amongst the people about the politicization of education in the country. We therefore appeal to the Government to let us maintain the four year system of Senior High School for some time to know its full benefits and disadvantages before we decide whether to make any changes or switch to another system".
The Communiqué further asked Government to ensure transparency and accountability in the management of the country's oil revenue and contracts cautioning that failure to ensure this could threaten the peace in the country.
It also commended Government for releasing funds to enable the Electoral Commission to implement a new biometric voter's register and asked all political parties to support the idea to advance the course of democracy through transparent, free and fair elections in 2012 and beyond.


Story by Ghana/Ebenezer Afanyi Dadzie/Radio Maxx/Takoradi