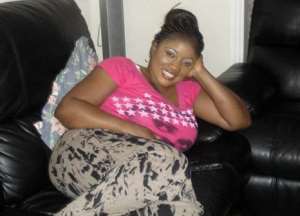 LONDON (Reuters) - A nurse was jailed for three years on Friday after being found guilty of killing her baby by force-feeding her, in the first case of its kind in Britain.
Gloria Dwomoh, 31, was convicted at London's Old Bailey last month of causing or allowing the death of 10-month-old Diamond.
She was said to be obsessed with Diamond's weight and poured liquidised food down her throat with a jug when she was weaning her.
Diamond died in March last year after being taken to a hospital near her home in Waltham Forest, east London, the Press Association reported.
A post-mortem examination found she died from pneumonia caused by food, including meat and cereals, in her lungs.
The prosecution said Diamond was forced to take her feed from the jug after the spout was placed in her mouth.
"She has endured the loss of her child for over a year. She has been punished enough," said Dwomoh's lawyer Trevor Burke.
He presented the court with a 1,000-signature petition from family and friends pleading for mercy, and asked the judge to impose a suspended sentence.
But the Common Serjeant of London Judge Brian Barker described Dwomoh's actions as a "misguided obsession."
"The forcing of food into your daughter against her natural instincts would have caused her daily distress," he said. "At best it was a misguided obsession -- but a determined obsession -- which must have caused daily prolonged distress to your daughter.
"It cannot be described as an act of kindness. It took away her life and that is something you must live with."
He said the practice of feeding by pouring food from a cup or jug into a child's throat was culturally acceptable in some parts of the world.
"In this country the feeding of a child in this way, against its will, is wrong and dangerous," he added.
Dwomoh, who worked at St Thomas' Hospital in London, wept in court as she denied doing anything to harm her baby.
She said she and her siblings had been fed the same way by her mother in Ghana when she was weaning them onto solid food.
Dwomoh showed the jury two small china jugs, the size of cups, which she used for feeding.
She said she made up feeds, including liquidised chicken soup, in one jug and transferred small amounts to feed the girl into the other.
Prosecutor Andrew Edis said the food had "gone down the wrong way" over months after the child began coughing and choking.
"This is a very sad case," he said. "If you have a child who is distressed and choking, you do not carry on."
Dwomoh had been warned about the feeding method in the past but Diamond, although taken to see doctors, was not on the "at risk" register.
Social workers and health professionals apologised for not saving Diamond, the latest in a line of children let down by professional carers.
A serious case review reported 18 key findings, including the lack of understanding on the issues which should have caused alarm bells to ring.
Laura Eades, chair of Waltham Forest Safeguarding Children's Board, said the death of a child by force-feeding was extremely rare.
"To our knowledge, this case is the first of its kind in this country and we are determined to learn from the issues that were central to this tragic loss of life," she said.
(Reporting by Michael Holden; Editing by Steve Addison)
Originating at uk.news.yahoo.com