Agogo residents divided over Fulani resettlement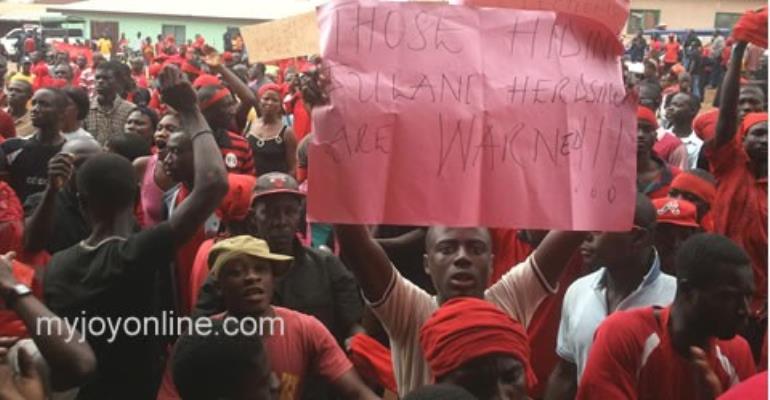 There appears to be no end in sight for the Fulani 'canker' in Agogo in the Ashanti Region.
A section of the residents, led by the Member of Parliament are kicking against the resettlement of the nomads.
The decision to resettle the Fulani people came after constant accusations leveled against them by the residents.
The residents claim the Fulanis have their cattle graze freely on their farms destroying food crops in the process. They also accuse the nomads of murder, rape and any other inhuman treatment.
National Security Council issued a two week ultimatum to the Fulani people to vacate the Agogo land.
The ultimatum officially came to an end, Monday. The nomads have been shown a new place to resettle.
A member of the Agomamba Kuo (Group) in Agogo, Seth Kweku Amoah welcomed the decision to resettle the nomads.
He said the new area is vacant and will not interfere with human activities.
He said he is satisfied with what he saw at the new settlement and with specific instruction to the nomads not to cross River Onyim, he is convinced there will be no more problem.
But a section of the residents would not want to see Fulanis anymore on their land.
Kweku Dua, a spokesperson for the Agogo Youth Association told Joy News the paramount chief of Agogo, Nana Akuoko Sarpong, has failed his people.
He alleged the chief and his elders took money from the nomads but failed to ensure the security and prosperity of his people.
He said the youth will not allow for resettlement of the nomads on Agogoland.
The Member of Parliament for Asante Akyem North in an apparent agreement with the Youth Association told Joy News "the voice of the people is the voice of God."
He wondered why government is bent on keeping the nomads in Ghana when they have violated all the conditions under which they were accepted in the country.
He said the people have had enough of the fulanis and would no longer endure the painful experiences in any form of co-habitation.
The MP said he is taking legal action to ensure that the nomads are not allowed to settle on the land.

Story by Ghana/Nathan Gadugah/Myjoyonline.com