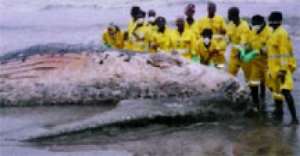 Flashback - a whale washed ashore
Two more whales have been found dead in Axim and Ankobra in the Nzema East and Ellembelle districts in the Wesyern Region, raising concerns that marine life along the coast in the region could be at risk of a possible environmental.
The dead whales, which were buried on November 1, 2011 after funeral rites had been performed, brought to eight the number of whales which have been washed ashore dead in the two communities in less than two years.
Worried about what is gradually becoming a periodic feature, the two communities have raised red flags and called for an urgent investigation into the death of the whales.
Members of the communities told the Daily Graphic that they were terrified by the frequent death of the whales and expressed fears that the situation might extend to the fishing stock.
They also observed that the sea turtles which often came to the shore to reproduce had ceased coming and called on the Ministry of Environment to as matter of urgency investigate the circumstances leading to the death of whales in the country's territorial waters.
They suspect that the whales might have been killed as a result of some chemical pollution.
Mr Adolph Sagari Nokoe, a resident of Axim, said as a matter of urgency the relevant authorities should give heed to the advice by the fishermen and investigate the cause.
He said the sad aspect was that when the whales were washed ashore nobody apart from an NGO, the Friends of the Nation, came to the communities to listen to them and share their worries and fears.
"The mammals were left there for about four days before the communities, led by chief fishermen, went and buried them," he said.
For their part, officials of Friends of the Nation (FoN) said the development was of great concern to them and were surprised that there had not been any proper investigations into the development.
Mr Kyei Kwadwo Yamoah, Programmes Coordinator, Natural Resources Management of FoN, recalled that during the Environmental Impact Assessment (EIA) hearings by the Jubilee Oil Partners, it was stated that the oil activities would impact on marine mammals including the whales.
Mr Yamoah said the companies proposed in their report that they would put in place measures to minimise the impacts on the whales, which was part of the condition for granting them the environmental permit.
"The issue is that the EPA is supposed to monitor the companies to ensure that they comply with the conditions of environmental permit but we are not sure whether the agency is doing that," he said.