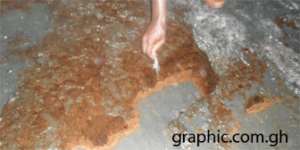 The oil spill along the coastline of Asamkow village
A large quantity of oil believed to have been spilled by an oil tanker has been sighted along the coast in the Ahanta West District in the Western Region.
The oil, which was detected by communities along the coast at 12 noon yesterday, was gradually moving towards the shore at the time of filing this story.
The spillage, covering about 8000 meters, has denied hundreds of the residents and tourists access to the beaches.
When the Daily Graphic got to the scene at Asmkow at 6 pm yesterday oil had been washed ashore affecting the beaches at Asmkow and was gradually moving towards other communities such as Mpatato and Adjoa in the Ahanta West District.
According to some members of the communities, they saw a long stretch of oil surfacing on the sea at 12 noon.
They said after the high current had washed some of the oil ashore, they realised that it was light crude oil either from an oil tanker or from operations of oil companies.
Officials of the Ghana Tourist Authority said their attention had been drawn to the incident.