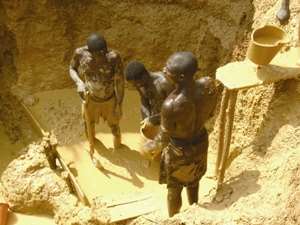 Obuasi, (Ash) Nov 5, GNA – Sixty-four (64) suspected illegal gold miners have been arrested in a joint military-police operation at Obuasi.
They were picked right inside the concession of the AngloGold Ashanti mine and another location where stones containing the ore are crashed and the mineral extracted.
Some mining equipment and tools including ventilation machines were seized from them.
Captain Adams Gariba Pabi, Public Relations Officer (PRO), Headquarters, Northern Command, told the Ghana News Agency (GNA), that the exercise would be sustained.
He said a clear and powerful message was being sent to those who had chosen to operate outside the law with impunity that the endgame was near.
They would not be allowed to pollute water sources and threaten legitimate businesses, he said.
In a related development, scores of illegal miners angered by the arrest of their colleagues later on Friday evening rioted in the Obuasi Municipality.
They blocked roads and vandalized a passenger bus and one other vehicle belonging to a private mining company.
The police had to fire warning shots to restore law and order.
Meanwhile, the suspects have been transferred to Kumasi for prosecution.
GNA