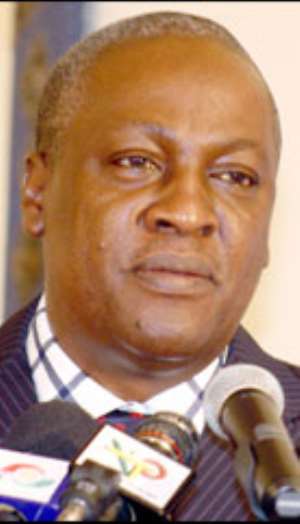 Vice President John Mahama
Vice President John  Dramani Mahama has  called on business  communities in Kumasi to take advantage of the Ashanti Regional Policy Fair by visiting the exhibition stands, especially those mounted by the metropolitan municipal and district assemblies, to identify the fertile grounds in the rural areas where equal motivation exists for further investment.
He said when this happens, 'we would be reducing the rapid rural-urban migration being pursued by the youth of our country in search of opportunities which might not even exist in the major cities such as Accra, Kumasi, Takoradi and others.'
'The situation further compounds the challenges that we have on our hands in the cities. So in order, not to derail our rural-urban linkage under the current dispensation, there is the need for all hands to be on deck', he added. Mr Mahama said this in an address read on his behalf by Mr Asuma Banda, Member of the Council of State at the opening of the three-day Ashanti Regional Policy Fair at the Centre for National Culture (CNC) in Kumasi.
'Empowering the people as we build a better Ghana' is the theme. The Fair has also created avenues where important issues on health education, tourism, agriculture and other natural resource endowments relating to the region would be thoroughly discussed during dialogue sessions.
And to this, the Vice-President asked political parties academicians, policy and Development Specialists as well as students to take active interest in the dialogue sessions, make inputs into some of the policy initiatives of Government, offer alternative suggestions, and constructive criticisms.
He said it is evident that the President John Evans Atta Mills since assumption of office has demonstrated in diverse ways, the need for his Government and its agencies and departments to be transparent and accountability to the people of G and one way to achieve this is through the Ghana Policy Fair.
Mr. Mahama therefore expressed his appreciation to the Ministry of Information and the Ashanti Regional Coordinating Council (RCC), who collaborative efforts made the occasion possible. The Vice-President said one of the major hindrances to the  practice of effective policy formulation, implementation, monitoring and evaluation in the country is the absence of reliable database upon which development aspirations could take a strong footing.
'One will always have to depend on scattered data and sometimes, even have to embark on fresh data gathering exercise in aid of new policy initiatives. This practice often leads to situations where the symptoms of problems are treated instead of the problems themselves'
He said he was happy that the Policy Evaluation and Oversight unit of the Office of the President had identified this challenge and had embarked on an exercise to rectify the situation.
The Fair would be attended by Regional Ministers Metropolitan, Municipal and District Chief Executives as well as Public Sector workers from Ashanti, Brong Ahafo Northern, Upper West and East Regions as well as Traditional leaders in the regions. – GNA