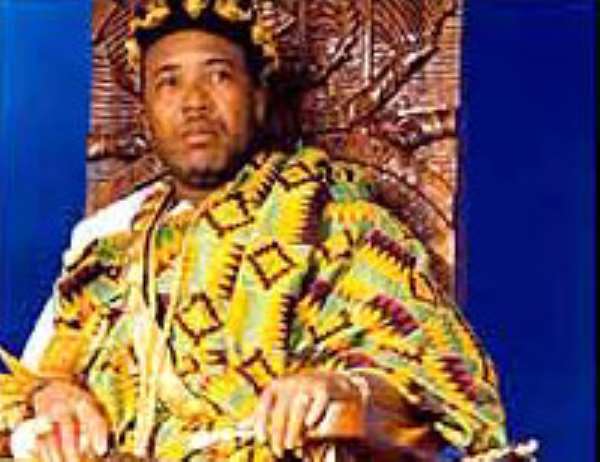 John Frances Whitfield Jnr., the General Secretary of the ruling National Patriotic Party (NPP) of Liberia, has accused the United States of attempting to 'bribe' Ghana to arrest his country's leader, Charles Taylor, when the besieged President arrived in Ghana last week for the Liberian peace talks.
Whitfield, the man tipped to lead the NPP in Charles Taylor absence, also has a defiant message from President Taylor to the outside world, outlining the conditions under which his country's leader is prepared to step down to facilitate peace for Liberian citizens, who have known very little peace and security since the civil war of December 1989.
The peace conference In Ghana has been postponed to Wednesday, awaiting the arrival today from the US of the political leaders of the rebel group MODEL, which sent an advance group of its military leaders Sunday.
The ruling party of Liberia is expected to demand immunity for President Taylor at the Akosombo peace talks as the prerequisite for peace. John Whitfield argues that any attempt to force Charles Taylor out now would turn ''Liberia into another Rwanda or Burundi.''
John Whitfield outlines Taylor's position as: 1. He is not stepping down a single day before January 19, 2004.
2. He is not going into exile anywhere after he resigns.
3. He will not submit to that coup (UN War Crimes Tribunal in Sierra Leone) under the current situation and procedures that they want to seek. Other sources close to the Monrovia government point to a sustenance of their leader's position. One such source told the Statesman newspaper that by Monday, Charles Taylor had hinted that he was willing to step down by December. Another told the Statesman newspaper that ''President Taylor would require about three months to demobilize his troops before quitting the scene''.
When John Whitfield was contacted about the new development, he only said that ''Mr Taylor is adamant that any issue of his resignation is out of the question for the time being when Monrovia remains under siege from rebels. He is however, fully committed to this peace process in Ghana''.