October 21, 2011
|
Africa
Commander 'Bufa' lost in Sirte battle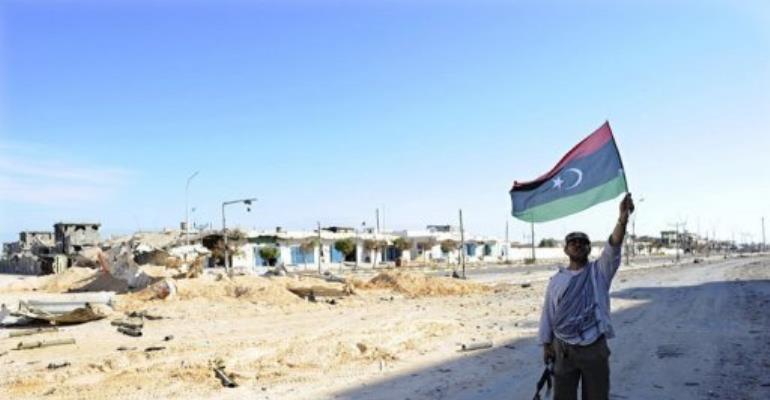 BENGHAZI, Libya (AFP) - His schoolboy pranks used to bring tears of laughters to his men's eyes, but as they carried the coffin of commander Mustafa bin Dardef, Libya's new regime fighters wept inconsolably.
Affectionately known as "Bufa," he was among National Transitional Council (NTC) fighters killed on Tuesday in the battle for Sirte, just two days before the fall of the hometown of strongman Moamer Kadhafi and his capture.
Bin Dardef, a popular field commander with the Zintan Brigade, was hit by a mortar round, maybe the result of friendly fire as shells and gunfire rained down on the last redoubt of Kadhafi loyalists.
No one really knows where the deadly bomb came from that felled Bin Dardef, a colossus whose voice touched the lives of men under his command and journalists who moved in the shadow of his brigade.
"It is the will of God," says fellow commander Hafez. "Bufa wanted to die a martyr."
On Tuesday, as intense battles raged to capture the last district of Sirte, a mortar round slammed into a vehicle packed with ammunition hurling shards of shrapnel in all directions.
A piece of metal tore into his bullet-proof vest while another ripped his throat, killing him almost instantly.
Just hours earlier he had spoken on the phone with his four daughters to tell them he would be returning home soon to Benghazi. But he only returned in a coffin.
On Wednesday, his teary-eyed supporters jockeyed for position to carry Bufa's coffin to Benghazi's Martyrs Cemetery, where 12 other fighters from the Sirte battle were also laid to rest.
Marimi, his second-in-command from the first days of the uprising that erupted in mid-February to oust Kadhafi's regime, was among 50 mourners from the Fakhri Alsalabi unit that Bin Dardef commanded.
Like most of his men Bin Dardef was not a professional soldier.
He was a businessman in the Mediterranean city of Benghazi before he joined the uprising, importing medical equipment and childrens' toys, and was twice jailed under the Kadhafi regime for his alleged Islamist leanings.
His men were mechanics, engineers or students who volunteered to fight in the Fakhri Alsalabi unit named after a pilot killed in mid-March as he tried to stop an advance by Kadhafi loyalists on Benghazi.
© 2011 AFP