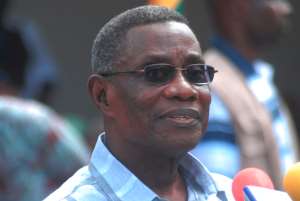 Accra, Oct 15, GNA - President John Atta Mills at the weekend expressed regret about thealarming reports aboutso-called pastors engagingin despicable acts and called on the clergy to nib the problem in the bud.
He saidgovernment has the responsibility to protect the citizenry from persons thefalse prophets who are seeking victims to devour either through extortion, sexual escapades or other wild criminal adventures that hasbrought the otherwise noble calling into contempt.
President Mills made this known in a speech read on his behalf attheState of the Church Symposium 2011 in Accra, where he was presented withthe Defender of the Faith Award.
Heimpressed on the clergy to continue tobe the conscience of the nation and let their voices be heard on national issues.
The Defender of the faith award seeks to encourage Christian public officials to be bold in the defense of their faith in Jesus Christ.
The seminar was organised by the Benny Wood Ministries International, a ministry that promotes unity and restoration of the image of the church to create a platformfor frank and honest assessment of the church and its future.
President Mills askedthe clergyto take steps at self-regulation and ensure that the charlatans amongst them are weeded outby teaching their membershow to identify these false prophets and tricksters, as Jesus Christ warned of the rise of this phenomenon in the last days.
Heexpressedconcern aboutindecent dressing especially in the house of God and called on the clergy to address the issue.
Deputy Local Government Minister Elvis Afriyie Ankrahcalled on Ghanaians to have faith in the President.
Chief Justice Georgina Theodora Wood said the church, since post -independence era have contributed to the socio-economicdevelopment of the country through building of schools, hospitals, universities.
She said the church was fraught withchallenges such asthe inability of peopletolearn the word of God to transform their lives.
Mrs Woodsuggested the need for the churchto put in place some regulatory structures to order the conduct members, stressing: "No church is above the law, therefore any church that flouts the laws of the country shall be dealt with accordingly without reference to religion or colour."
"The church should therefore rise up to stamp out all evil among its ranks", she said.
Bishop Prince Benny Wood, Founder of Benny Wood Ministries International noted that it was pertinent for the church to unite to be able to deal effectively with the forces of evil that is coming against it.
"The church must show force to be able to influence policies for the nation and must not allow denominational barriers to divide us," he said.
The symposium which was a maiden eventawarded three churches for their service to God and country.
They are the Methodist Church for their 176 years of church work in Ghana and 50 years autonomy, 76 years of The Apostolic Church and 80 years of Assemblies of God church in Ghana.
GNA