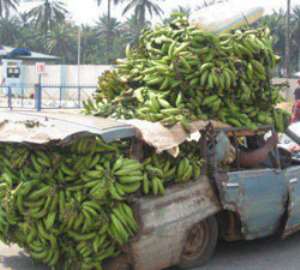 The President of the Ghana   Network of Journalists on Mining,  Oil and Gas (GNJMOG), Mr. Raphael Godlove Ahenu, has expressed the fear that the rate at which mining operations have become very rampant in the food growing areas of the country, the nation's food security might be threatened.
He has consequently called on the government to stop giving out fertile lands suitable for food crop production as mining concessions for mining activities.
Speaking in an interview with The Chronicle, Mr. Ahenu observed with grief that food-producing areas, as well as forest reserves, which regulate the micro climate of Ghana's food baskets, were being given to multi-national mining companies for mining operations, without a critical assessment of food and environmental security implications.
'If we follow the multi-national mining companies' greed for gold, and give out our lands and forests for mining, posterity can never forgive us, should our decisions today, result to famine in the near future,' he said adding, 'our greed for gold today, can affect food security in Ghana, but we should be mindful of the fact that food is a basic indispensable necessity in life.'
Mr. Ahenu revealed that several mining operations, especially, exploration activities, were being carried out in food baskets and forest reserves throughout the country, with the mention of Donkro Nkwanta as one important food growing area in the Brong-Ahafo Region, being threatened by Newmont's intended exploration activities.
The GNJMOG President, who was commenting on the theme of the 2011 World Food Day: 'Food Prices - From Crisis To Stability', predicted that if successive governments continue to give fertile lands that are suitable for food production to unsustainable activities like mining, food prices would continue to upswing, which could pose a major threat to food security to the nation.
World Food Day is annually held on October 16 to commemorate the founding of the United Nations (UN) Food and Agriculture Organisation (FAO). On World Food Day 2011, the focus will be on the causes of swings in food prices, and what needs to be done to reduce their impact on the weakest members of global society.
He noted that food provides the body with the energy required to go about daily activities, as the body is empowered to regulate the various processes, assist, and protect us from developing diseases, and above all, help to build, maintain and repair all body cells and tissues.
Therefore, he added, tendencies that could threaten food security must be of great concern to all.
According to the World Bank, in 2010-2011 rising food costs pushed nearly 70 million people into extreme poverty, hence this year's World Food Day theme to shed some light on the trend, and what can be done to mitigate its impact on the most vulnerable.
It is against this background that Mr. Ahenu appealed to the Ministry of Food and Agriculture and Ministry of Lands and Natural Resources, to dialogue and exclude areas with fertile lands for the production of food and other crops of economic and health importance, from all mining activities.