AU Decade of the African Women 2010-2020..... education is key to empowerment - Deputy High Commissioner to UK - Mrs Elizabeth Nicol
The Deputy High Commissioner to the United Kingdom, Mrs Elizabeth Nicol, has stated that the key to the empowerment of the African woman is through education. She said this at a meeting with a delegation from the Women's International League for Peace and Freedom (WILPF), UK Section, at the conference hall of the Ghana High Commission in London.
The meeting was at the instance of the WILPF, a non-governmental organisation, and forms part of the project of the African Union "African Women's Decade."
Mrs Nicol observed that if the African woman is properly educated, "it will open up opportunities for her to realise her potentials and be able to empower her economically, socially and politically."
The Deputy High Commissioner expressed the view that the African woman can only be part of the decision making process if she builds her capacity through formal education. She commended the group for their contribution towards the empowerment of the African woman through the Voices of African Women Campaign (VoAW).
The Police Attache at the High Commission, Mrs Vib Zanziri, called for more women participation in peacekeeping to enhance the security of women and children in conflict areas. She recommended pre-deployment training for women in peacekeeping for other African countries as done in Ghana.
According to her, women can achieve a lot in peacekeeping when given capacity training before deployment. She therefore called for gender action for peace and security to ensure conflict prevention.
Advertisement
A member of the WILPF, Martha Jean Baker, stated that African women should get more involved in politics in order to influence decisions in their favour. According to her, the course of women empowerment can only be achieved if women take active role in decision making processes which affect them.
She said WILPF is to "respond creatively to the demands placed on women by our society and find ways to work with all women to achieve WILPF's vision for peaceful world."
The delegation urged the media to give prominence to gender issues during the project period of the decade of the African Women declared by the African Union. This, they said, will help the course of women empowerment in Africa.
In October last year, the Africa Union declared African Women's Decade 2010-2020 under the theme "grassroots approach to gender equality and women empowerment" to tackle ten key areas including "fighting poverty and promoting economic empowerment of women entrepreneurship".
Present at the meeting include, Mrs Joyce Asamoah, Head of education (Ghana Mission), Miss Zuwera Ibrahimah, Information Officer (Ghana Mission), Mrs Jemila Mahama (International Maritime), Mrs Pat Boadu-Darko (WILPF), Maie Elhag (WILPF), Marie Lyse Numuhoza (WILPF).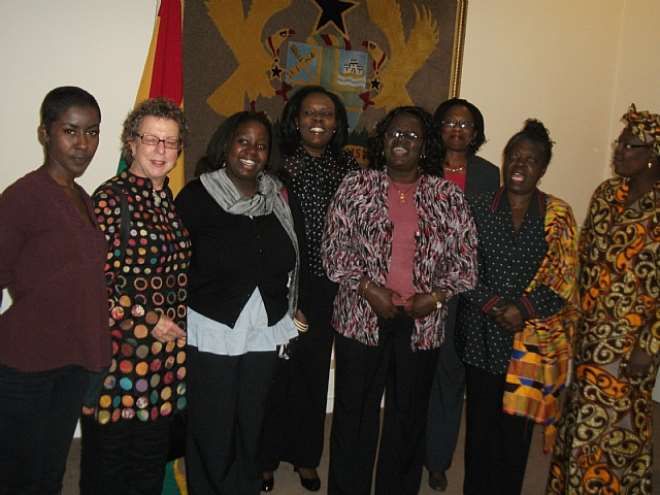 DSCF3092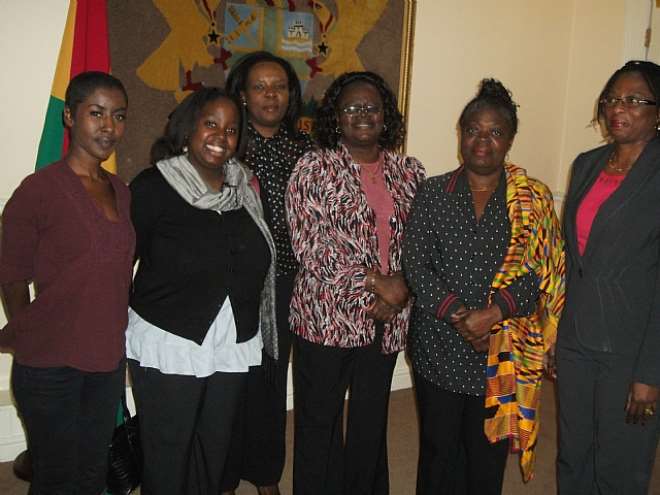 DSCF3093