Ken Attafuah: Police must maintain the 'Kobby Acheampong-spirit'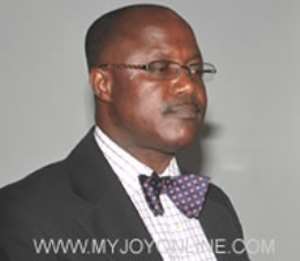 A criminologist and human rights lawyer, Prof. Ken Attefuah, has commended the police administration for taking a swift action against eight police officers alleged to have acted in an uncivilized manner against Kobby Acheampong, a deputy Minister for Interior.
He told Joy News' Dzifa Bampoh that the conduct of police personnel should not be condoned by the police administration.
While commending the administration, Prof. Attafuah also challenged them to extend the same promptness to other members of the public, and not limiting it to people in government.
"It should not be seen to be tailored specifically to satisfy the expectation of the deputy minister or of any political class."
He however hoped the personnel involved would not be subjected to an "unfair treatment, to abusive investigative procedures; that they are not cajoled, bamboozled, or otherwise intimidated treatment in the investigation process".
"But it must be emphasized that it is a good thing that the conduct of the officers has been reported," he stressed.
Prof. Attafuah said although the police administration may have some challenges with their internal procedures, which he said is ineffectual, junior officers have also not been able to muster courage to make their problems or difficulties known for fear of victimization, he noted.
"And so internal procedures often do not yield the honesty and sincerity, which is required in order to improve governance structures and arrangement in our society generally."
He also commended Mr Kobby Acheampong for taking the initiative to report the alleged misconduct of the police personnel.
Meanwhile a junior police officer who wants to remain anonymous has lashed out at the police administration and accused them of not protecting them.
Questioning whether the deputy minister was above the law to submit himself to the police routine checks, he believed his colleague did not insult Kobby Acheampong.
"The politicians should come down for us to work with them," he remarked. "We are the same people who protect them. We are the same people when they have problem they fall on us."
Police officers in Cape Coast Monday refused to continue their work on the road in protest of plans to punish their colleagues.
Meanwhile, the police officer who is alleged to have used the word "stupid" on the deputy minister has been suspended, Acting Director of Police Public Affairs disclosed this to Joy News.
The rest have been asked to go on their normal duties while investigations continue.

Story by Ghana/Myjoyonline.com/Isaac Essel