More efforts needed to recover Ghana's lost forest cover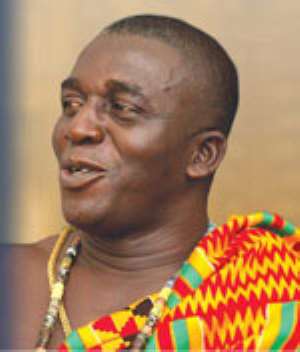 Nana Kobina Nketsia V, Paramount Chief of the Essikado Traditional area
THERE have been continuous concerns   over Ghana's dwindling forest cover, as there seems to be little or no efforts  to replenish what is lost on a daily basis, and over the years.
It is in view of this that one of the advocates for the protection of Ghana's forestry cover, the Paramount Chief of the Essikado Traditional area, Nana Kobina Nketsia V, has repeated calls for conscious efforts to recover the country's lost forests.
According to him, Ghana's forest cover has depleted at an alarming rate, whereas efforts by the Forestry Commission (FC) and the country in general, were not commensurate, saying, 'I hope recovery efforts are not too late.'
Stressing the seriousness of the matter, he lamented, 'We may not be aware, but the environmental changes going on are drastic,' such that in previous times, guinea fowls that used to be in the south, on the coast, were no more.
Hence, reference was made only to the northern part of Ghana any time there was mention of guinea fowl, he pointed out, adding, 'The loss of forestry cover is not likely to go away.'
Nana Nketsia V was speaking at the launch of the the 2010 Annual Transparency Report Card by the Centre for Indigenous Knowledge and Organisational Development (CIKOD) last Thursday, in Accra.
He said, Ghanaians were not conscious enough about the environment and how best to sustain it without compromising the future for generations to come, questioning, 'What forest cover are we leaving for those coming after us?'
Furthermore, he expressed worry that though the current generation met the forest covered, it was now reduced to about one-third, and further dwindling.
He, therefore, called for a concerted effort by all Ghanaians to discuss the issue, and look at how best to solve the problem, while calling for dedicated funds such as one for timber to help track cash flow from its sale, and its disbursement.
This, he said, would help to know the worth of dealing in such trade items that also have a negative impact on the environment, including surface mining, asking, 'Are these worth doing at all, and what the cost ratio is?'
Touching on the report card, the Deputy Executive Director of CIKOD, Mr. Willie Laate, indicated that the 2010 Annual Transparency Report Card was the second report emanating from the implementation of a four-year project called 'Making the Forest Sector Transparent,' which was started in 2009.
He said the project was aimed at supporting civil society in some resource-rich countries, including Cameroon, Ghana, Liberia, Peru, Ecuador, Guatemala and Democratic Republic of Congo, to engage with policy makers and advocate for accountable forest sector governance, while CIKOD leads the project in Ghana.
The report card seeks to determine what information is available or not, and assess the usefulness of available evidence from the perspective of different stakeholder groups for transparency and governance purposes.
The information for the report was based on both desk study and field surveys with different stakeholder groups in six districts, including Sunyani Municipality, Goaso and Dormaa in the Brong Ahafo Region, and Tarkwa Nsuaem, Wassa Amenfi East and Juabeso in the Western Region.
The findings revealed that there continues to be lack of transparency in many decision-making processes such that, 'The general conditions for improving transparency remain positive in Ghana, but little progress has been made on the passage of the Freedom of Information Bill, and there is consequently no framework to legally require institutions to divulge official information,' said Mr. Laate.
In terms of forest legal and policy framework, he indicated that though the FC had provided information through its website on important initiatives such as the Voluntary Partnership Agreement (VPA) and Reduction of Emissions from Deforestation and Degradation (REDD), there has been a lag in updating it on recent developments, sometimes for up to several months.
Also, public awareness is generally low, as the field survey found that 80% of all respondents were not aware of either REDD or VPA, while limited legally recognised mechanisms exists for public participation in decision making, he added.
He continued: 'Concerning land and forest tenure, forest tenure and ownership is recognised by the government and all stakeholders as an important subject to deal with, and there remains scope for greater clarity in the definition of communities with rights, in relation to land and forests.'
However, there are no ownership and forest land use maps, and several localised disputes exist in various communities between different claimants to a piece of land, he lamented.
On the other hand, the general level of awareness across the stakeholders, regarding the collection and distribution of land revenue, including forest revenue, which is enshrined in the 1992 Constitution, was relatively high at about 75%.
Also, while the FC has consistently published the disbursements of royalties from timber resources on the website and also in hard copy, 'This information is usually way behind schedule, and it was only available for the first half of 2009, as at April 2011,' he stated.
According to him, there were worrying signals that the authorities were reverting to less transparent administrative practices that contravene transparency norms and go against the spirit of the various laws on resource allocation.