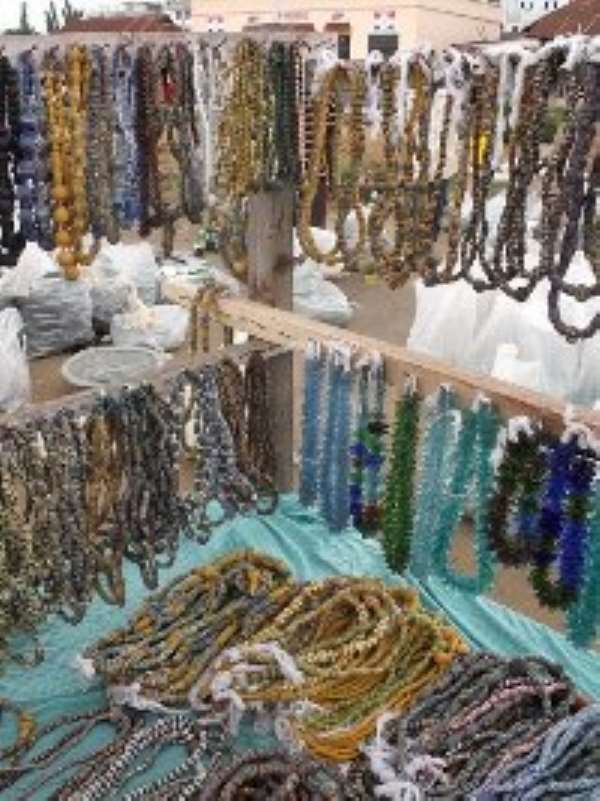 Koforidua, Oct. 1, GNA - The popular beads market in Koforidua was on Friday relocated to a permanent trading centre near the Centre for National Culture (CNC) in the regional capital.
The traders, who had been at the mercy of the weather for years at the old place at Jackson Park, heaved a sigh of relief.
The new market which was constructed by the New Juaben Municipal Assembly, contains 120 spacious stalls, a ware house and toilet facilities.
The beads market, which attracts hundreds of traders and merchants from all over the country had for the past 10 years been restricted to trading for only once a week at the old place because of the lack of a permanent place.
On Thursdays, dealers in beads from all parts of the country converged at the Jackson Park to do business and those coming from other parts of the country had to leave and come the following week because they would not be allowed to trade again.
Whenever there was a national programme On Thursdays at the Park, traders who had travelled to the market from afar were left to their fate since they had no space to conduct their business.
Members of the Eastern Beads Association in several attempts to get a permanent trading centre failed until two years ago when Mr Samuel Ofosu- Ampofo, then Regional Minister, tasked the Municipal Assembly to relocate them to the new site.
The Secretary of the Eastern Beads Association, Alhaji Ibrahim Mohamed, who spoke to GNA, said they were happy for the relocation because it meant that trading activities would be throughout the week which would boost the economic status of the members.
He thanked Mr Ofosu-Ampofo in particular and all others who supported their relocation and urged the Assembly to finish with the little works at the centre to boost the status of the market.
GNA