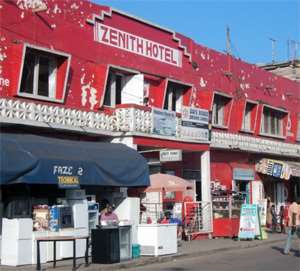 Sekondi-Takoradi, now called the oil city of Ghana, is experiencing a surge of child prostitution.
Activists say the menace has increased since the Jubilee oil find, with girls being drawn in from Ghana and other West African countries.
Lurking in the dark under a neem tree at about 11pm, some 20 meters from the Zenith Hotel in Takoradi, was a young girl who was almost half-naked.
Clad in a transparent white T-shirt covering only half of her buttocks, the little girl's breasts were exposed. The black high-heeled shoes she wore matched her Rasta hairdo.
'What is this girl up to at this ungodly hour of the night?' I soliloquized. Then, immediately, I remembered what a high-profile social worker had earlier told me about these ladies of the night.
'I don't think it's a new phenomenon,' said Deborah Daisy Kwabia, the metropolitan director of the Department of Social Welfare. She added, 'Just that it's increasing!  With the influx of people, the place becomes a melting pot of various cultures, foreign and local.
When the living conditions become hard, you have to make a living. Parents will push their children into it; the children themselves will go into it; and others will become jaded as a result of their peers.'
Araba Menseiwa is 12 years, nine months old, but has taken to prostitution and plies her trade around Zenith Hotel and Beach Road in Takoradi. Sometimes, she goes to 'Komfo Ase' in Sekondi. Her colleagues all have their special hotspots, which they keep changing depending on the trend of the business.
Araba claims she is the only girl of her parents and comes from a village in the Eastern Region. She told DAILY GUIDE she didn't know her father and lost her mother a year ago.
'I repeated class four and after failing to make the grades the third time, I stopped school,' she said, adding, 'No one looks after me. A senior friend introduced me into this trade.'
She said she makes GH¢5 for each round of sex, and special clients sometimes offer her GH¢10 or more. She has been working for seven months, and is yet to accept an invitation outside the Zenith. Her nightly income was between GH¢30 and GH¢50, apart from tips.
As a minor, Araba is being coached by a senior prostitute she named only as Nancy, who offers her room at Zenith Hotel and takes a fifth of her proceeds every night.
The issue of child prostitution among girls has similar implications on boys who are under 18 and are also streaming into the metropolis and indulging in homosexuality.
A section of the Children's Act of 1998, Act 560 (18) sub part II under Care and Protection states that a child is:
•in need of care and protection frequents the company of any reputed thief or reputed prostitute
•residing in a house or part of part of a house used by any prostitute for the purpose of prostitution, or is otherwise living in circumstances calculated to cause, encourage or favour seduction or prostitution of or affect the morality of the child.
The Act further states that if the Department of Social Welfare has reasonable grounds to suspect child abuse or the need for care and protection, it shall direct a probation officer or social welfare officer, accompanied by the police, to enter and search the premises where the child is kept to investigate and remove the child to a place of safety for a period of not more than seven days.
Girls like Araba who are in the age bracket of 12 and 14 years are into prostitution all over the oil city of Takoradi. They look for cash from their clients, some of whom are high-profile persons.
Child prostitution patronage is high during big conferences, party rallies, football tournaments and the area's annual Kundum festival, according to interviews conducted some months ago with sex workers. Kundum is an annual week-long festival celebrated by the Ahantas and Nzemas in the Western Region,
During such occasions, child prostitutes clock an average of between GH¢120 and GH¢200 a night. These 'call girls' told DAILY GUIDE they always insist on condom use.
Interestingly, at Zenith and a few buildings around the area, people rent out rooms for 'short time' sex at night for GH¢2.50, but the 'fucking' fee is always at the discretion of the child prostitute.
'Those who are regular clients sometimes enjoy some rebate or reduction,' remarked a Nigerian prostitute of 20 years old. 'You pay for fondling the breasts and kissing and when you don't discharge at the allotted time, you pay more fees,' she stated.
Inside the Zenith are rooms rented out specifically to the 'sisters', as they are addressed in many regional capitals where the sex trade prevails. As for drinks, there are plenty inside the bar, ranging from the local gin, popularly called 'akpeteshie', to champagne and brands of gins, beer and soft drinks.
In the main courtyard of the Zenith are seats and tables where these 'night ladies' go round soliciting sex, with some holding and swinging the keys to their rooms. Just sit down and in no time you have a slim, medium-sized or fat lady partner around. She greets and sits beside you. She engages you in a conversation geared towards one thing: 'Sex for sale, if you so wish'.
There are similar places for the sisters at Kwesimintsim, two-and-a-half kilometers from Takoradi, where the prostitutes sit in front of their houses from 7pm until when they wish to retire for bed. Clients go round to select and enter into their rooms. Some girls make shrill noises or knock the thumbs together or make other gestures to signal their clients that they could provide excellent service.
Harbour View Bar and Mexico Area in Takoradi, as well as secluded areas around 'Komfo Ase' and European Town beach in Sekondi, where there are some wooden structures called 'ghettoes', are hot spots where these child prostitutes operate.
The fee used to be GH¢5 per one bout of sex, but has now soared to GH¢10, with respect to the senior sisters. The child prostitutes have had their fee also revised from GH¢2 to GH¢5 in January 2011 when Ghana started pouring oil from its Jubilee Field.
Comfort Osei Gerning, foster mother of Mercy Foundation, a non-governmental organization dealing with street children, child labour, and child prostitution, as well as abused women and children, said the situation is becoming precarious.
'Because of the oil, the girls have turned to prostitution,' she said, adding, 'And we have some boys who have turned to homosexuality.'
Some of the girls initially troop to Sekondi-Takoradi from the villages to engage in menial jobs like dish-washing in the chop-bars, selling of ice water, or housekeeping.
When they find out that their income cannot meet the high cost of living in the twin city, they go into prostitution, with some of the boys becoming shoplifters and homosexuals.
'The girls, because they don't have anything, the men at the chop bar harass them, give them small money so they become girlfriends,' Gerning remarked. 'Because of that, they don't go to school, because they are receiving money. They have their freedom, because they are receiving money. They eat on their own and stay on their own.'
It was also gathered that in some of the senior secondary schools in the metropolis, the students have formed prostitution clubs like 'Lovers, Black Touch' and discuss all sorts of pornographic issues and watch films of that nature as well.
Mercy Foundation is said to have tried to assemble some of the girls doing menial jobs in the metropolis and training them in making batik, tie and dye, soap, hairdressing and sewing to prevent these young ones from being dragged in prostitution.
Challenges And
Addressing The Issues
What are government officials, civil society groups or non-governmental organizations doing to minimize child prostitution in society, particularly within the Sekondi-Takoradi metropolis?
Social workers lack the necessary logistical and financial support to address the issue holistically, according to Erasmus Asiedu, Western Regional head of Protection and Promotion of Child Rights, Department of Social Welfare in Sekondi.
Currently, the department is aware of the problem and some of the locales it inhabits. But officials say resources are too few to take significant action.
The department cannot shelter them, since the only reception centre for child labour, child prostitution, street children, which are inter-related, is in Accra and even lacks space to manage its current inmates.
Mr. Asiedu stated that it is incumbent on the government to resource the Department of Social Welfare to ensure the safety and welfare of such children, but needs the cooperation of other non-governmental organizations and philanthropic bodies to make the exercise a reality.
He observed that if the human potential of children involved in prostitution, with its first cousins child labour and street life, is not addressed appropriately, the future of these children could be jeopardized.
The Sekondi-Takoradi Metropolitan Assembly (STMA) sub-committee chairman on Social Service, John Davis, said the sub-committee had been visiting schools and other establishments to sensitize them on the dangers of child labour, child prostitution and street children.
Radio talk shows and discussions are also ongoing, but Mr. Davis hinted that as a result of the increase in child prostitution, many girls continue to drop out of school.
Statistics he provided indicated that in 2010, 52 pregnancy cases were recorded in the metropolis and five illegal abortion cases, adding, 'This can be attributed to child prostitution in the metropolis.'
Causes And Effects
Faustina Otabil, Assistant Regional Director of Department of Children, told DAILY GUIDE in an interview that child prostitution is a reality in the Sekondi-Takoradi metropolis and attributed the major cause to child neglect by some parents.
'Some parents don't bother where the children sleep, what they eat or wear,' she said, 'Neither will they think of their education, but just leave them to their fate thus, pushing them into prostitution, child labour and life in the street.'
Such children, especially girls, find solace in men who can provide them with some basic needs and consequently sleep with them while others indulge in child prostitution for a living.
'Some men who behave like vultures, when they see rotten things, go for them. So if parents neglect their girl-child, they give some men the chance to do what they like with them'
Ms Otabil never ruled out that child neglect also leads to teenage pregnancy, which is also common in some communities in the Sekondi-Takoradi metropolis.
'Giving birth is not the end of it,' she added. 'Parents must look after their children and monitor their movements and activities'.
She told DAILY GUIDE that her outfit sometimes seeks opinions from children and that there was an instance in a coastal fishing community where a research conducted by the Department of Children revealed that some parents refused to give the children fish if they don't go to the beach to look for fish to supplement the family cooking.
'In such a case, the girl-child is compelled to look for fish from some fishermen at the beach, and this usually drags them into having sex with the fishermen who are able to meet that need,' Ms Otabil added.
Solutions
She hinted that the Department of Children was working in collaboration with the Social Services Sub-committee of the Sekondi-Takoradi Metropolitan Assembly to sensitize schools and committees on the need for parents to look after their children.
Radio talk shows, sensitization visits to the communities and schools in the Sekondi-Takoradi metropolis and drawing their attention to the dangers of child neglect and prostitution are going on vigorously.
Parents and guardians are also advised regularly to protect their children against child labour, child prostitution and life on the streets. They are to ensure they check the movements of their children and monitor their activities closely.
The security agencies, in collaboration with stakeholders of child rights and care organizations, should ensure that wooden structures and areas where child prostitution is rife are destroyed and periodic swoops conducted to minimize the menace.
Parents and guardians who neglect their children, leading to child prostitution, should be brought to book by the agencies concerned so that the appropriate punishments or fine are meted out to them to serve as a deterrent to others.
The Traditional Touch
The Paramount Chief of Eastern Nzema Traditional Area, Awulae Amihere Kpanyinli II, commenting on child prostitution, attributed the problem partly to parents who shirk their responsibility.
'Why should men give birth to children and leave them on their own to suffer without looking after them?' he asked. 'Our tradition of giving birth to as many as children as one prefers without recourse to proper family planning is a major contributory factor to child prostitution.'
Awulae Amihere, whose traditional capital is Atuabo in the Western Region, believes in the maxim; 'Do things within your limit' and 'Better do one thing right than do many things wrong'.
He advocated stiffer punishment in the Children's Act towards irresponsible parenting and wished the district, municipal and metropolitan assemblies could enact stiffer by-laws or sanctions on those who abuse and neglect children.
'Those days when traditional rulers had the power to mete out punishment to such offences, hardly did one hear of child prostitution or see street children,' he said. 'Yes, foreign culture, coupled with the law courts, has changed most of our traditional values and norms and the results are glaring.'
This paramount chief, who has stayed and worked in America for nearly 20 years, said if Ghanaians did not go back to their roots and respect their cultural heritage, but continued to copy foreign culture, which had no bearing on our African identity, 'we must blame ourselves for child prostitution, homosexuality and other vices.'
Story: By Sam Mark Essien