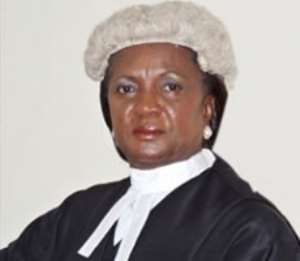 The Chief Justice Theodora Georgina Wood has warned new lawyers against making malicious and unsubstantiated allegations against Judges in the country.
She said the lawyers have a duty to protect the sanctity and integrity of the Judges who are defenceless when attacked in the public.
She was speaking to some 206 lawyers who were called to the Bar, Friday at the Great Hall of the University of Ghana.
Her admonition comes in the wake of controversial comments made by some four lawyers who publicly accused Judges of collecting bribes but offered no evidence to back their claims.
The four- Raymond Atuguba, David Annan, Abraham Amaliba and the late Larry Bimi- were dragged to the Legal council to substantiate their allegations against the Judges.
The Chief Justice observed such allegations are inimical to the sustenance of an effective and independent Judiciary.
Joy News Editor Samson Lardi Ayenini who was present at the occasion reported the fears by the Chief Justice is in respect to the insults –which seemed to have dominated public and political discourse- gradually permeating the Judiciary.
"The Bar Association has been entrusted with the sacred responsibility to assist in upholding the independence and integrity of the court," he quoted the Chief Justice as saying.
According to the CJ the lawyers must also restrain from spreading unsubstantiated and malicious allegations against other professional colleagues, noting, the Judges, who are unable to defend themselves, are entitled to receive the support of the Judiciary against unjust criticisms.
Whilst conceding that Judges are not above reproach, she explained such criticisms must be constructive.


Story by Nathan Gadugah/Myjoyonline.com/Ghana