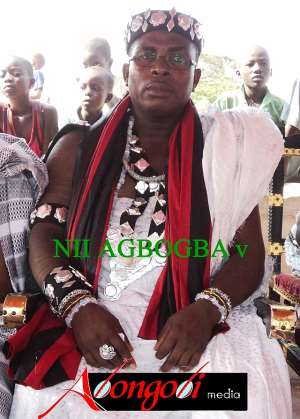 It was a beautiful display of culture and tradition when the chiefs and people of Osu Alata Agbadzadzoohe in the Greater Accra region installed a new Nifahene under the stool name Nii Agboba V.
Known in private life as. Daniel Nii Lante Cleland, the new Osu Alata nifahene, a France based business man hails from .Agbadzadzoohe, one of the royal houses in Osu.
Gorgeously dressed in an all white regalia, Nii Agboba V, having gone through all the required traditional processes was officially outdoored by the osu alata jaase, Nii kwashie Aniefi v amidst the rhythmic vibration of the fontonfrom.
The asafo also chanted war songs to show their readiness to defend and protect their new chief
Accepting responsibility, Nii Agboba v, said he is fully aware of the challenges facing the community and gave the assurance that he has outlined strategies to address them with the help of the Ga-Dangme Europe Association, and urged his people to feel free to approach him when necessary.
Since the death of the previous Osu Alata Agbadzadzoohe nifahene in 1997, the stool has become vacant.
Nii Adjetey Kofi who has been the acting nifahene ever since, is also not physically fit at the moment, hence the need for the enstoolment.
Pouring libation to thank the gods for the glorious moment, the Osu tsidom hene, Nii Adama Suose II, expressed worry about the delay in enstooling chiefs.
He said, if a chief passes on to the land of the ancestors and there is no replacement on time, then people who are appointed as acting chiefs later refuse to make way, after tasting the luxury of royalty.
This he says causes chieftaincy disputes.
Addressing the durbar, the chief of Osu Alata, Nii Kwabena Bonne v, blamed the lost moral values especially among the youth in the community on illiteracy and unemployment and urged
Nii Agboba v, to strongly organise the youth in that aspect.
He also ordered parents and elders in the community to punish any youth involved in the immoral act of homosexuality and lesbianism from the society.
Gifts ranging from perfumery to different types of fashionable kente and beads were later presented to the new nifahene of Osu Alata, Nii Agboba v.
A report by: Naa Dedei Hammond
Accra.
Photo by Nii Annan Ammah