September 16, 2011
|
Health
Nii Ayikwei Mankattah block at Ussher Polyclinic inaugurated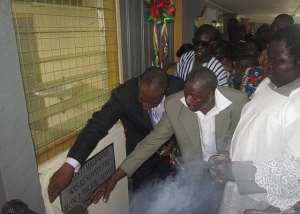 Accra, Sept. 16, GNA - Mr Jonathan Tackie-Komme, Member of Parliament for Odododiodoo, on Friday inaugurated a refurbished women and recovery wards for Ussher Polyclinic in Accra.
In addition, he presented medical equipment and unveiled a plaque for the Polyclinic's administrative block named after former Member of Parliament for Odododiodio, the late Samuel Nii Ayikwei Mankattah.
Mr Tackie-Komme commended the late Mankattah for his tremendous contribution towards the enhancement of education and health in the constituency that had set a remarkable pace for emulation.
He said his predecessor used his share of the Common Fund to renovate four basic schools and construction of the Polyclinic's Administration block.
Mr Tackie-Komme pledged his commitment towards the enhancement of primary health care with particular reference to community health planning and services, extension, expansion and equipping of health facilities.
He commended the health personnel for their untiring efforts, patience and commitment towards the well being of patients.
Mr Tackie-Komme presented a sewing machine and a cheque for GH¢300 from the Accra Metropolitan Assembly (AMA) to Ms Rosalyn Dede Mankattah, daughter of the deceased who had completed training in dressmaking.
Mr Rojo Mettle-Nunoo, Deputy Minister of Health, commended Mr Tackie-Komme for the transparent gesture, saying it was heart-warming that an incumbent Parliamentarian would acknowledge the contribution of his predecessor and urged others to emulate.
In addition, for using part of his common fund to renovate the women and children's wards, nurses restroom and providing them with furniture, new beds, mattresses, an air-conditioner, generator, six wheel chairs, five intravenous infusion stands, places of convenience, fridge and a water reservoir.
However, Mr Mettle-Nunoo expressed concern about the poor environment in the community and with the Korle Lagoon situated in the heart of Ashiedu-Keteke Sub-Metropolitan Area.
He said it was critical that the residents respected and refrained from indiscriminate dumping of refuse into the Lagoon to prevent an outbreak and spread of communicable diseases such as cholera.
He urged the people, especially the youth not to indulge in pre-marital sex with its attendant high rate of teenage pregnancy in the area and challenged the youths to be responsible.
The Deputy Minister of Health encouraged pregnant women to attend antenatal clinics for early health care to prevent complications that might lead to maternal and child mortality.
GNA