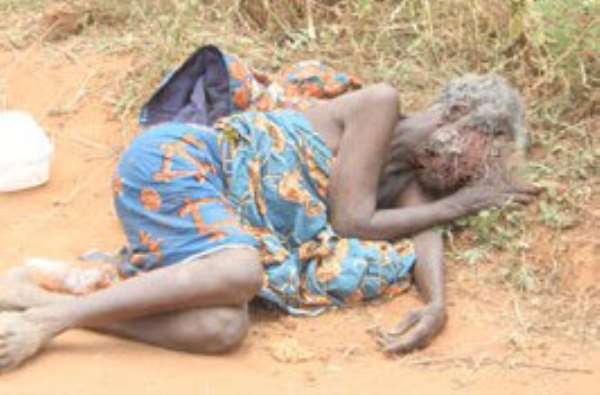 Madam Boekuor Fiadzigbe
Madam Boekuor Fiadzigbe or Maama, as we affectionately call her, is my grandmother. I lived with her in Mamobi, Accra, until my parents, who were in the States, came for me when I was ten. I am now a first year Engineering student in Manhattan College in New York City. I credit this to Maama. She always makes sure we did our homework and read. Having raised my dad to become a graduate of KNUST, she knew the value of education, even though she never had the privilege of going to school.
My memories and time with my grandmother in Ghana as a child are some of the most treasured moments of my life. She was tender, protective and very loving. She used to cook the best 'waache' in the world.  I think she is the best cook. On Sundays, I always enjoyed the walk with Maama to the E. P. church near the Kotobabi police Station. Whatever I wanted grandma gave me. The truth is that she is just a naturally generous, kind and giving person.
For the past three years, Maama developed the onset of Alzheimer's disease. She became forgetful and would complain that she had not eaten a few minutes after a meal. She developed the classic symptoms of Alzheimer's disease, such as wandering off and getting lost. Old age has taken a toll on her keen and intelligent mind.  The family had to keep an eye on her every movement.
A few days ago, my daddy told me Maama was lost and the entire family was combing the streets of Accra looking for her. My heart sank. I did not want anything to happen to my grandmother. I love her more than life itself. I counted the hours and waited for news. I prayed that God would lead some Good Samaritan to bring grandma home.  A place of kind, God-fearing people is the Ghana that I remember from my childhood, so that gave me  a lot of hope that Maama would be found alive and well. There was no doubt in my mind. No one would hurt grandma.
The sweet news came when my dad called and informed me that Maama had been found. However, the news came with shocking surprise. A crowd of people had tortured and thrown stones at my grandmother, almost lynching her. They accused her of being a witch! I was horrified!
I could not believe it. This is not the Ghana that I remember, this is not the warm, kind and friendly place where I honed my soccer skills. My heart ached, the tears fell, I could not understand why on earth somebody would want to hurt this beautiful soul. No matter how I tried, I could not make any meaning out of it.
Is it a crime to be old in Ghana? Is it a sin to develop Dementia and Alzheimer's disease? Has my Ghana changed this much? Considering how much I brag about the land of my birth, I don't want to tell my friends here that it is people in Ghana that would attack an innocent, lost old lady.
I thought Ghana was the most peaceful country in Africa. I hate for my friends to see my Ghana as a land of barbaric, ignorant people who would attack a sick old woman. No! I detest having my American friends see Ghana as a place where there is no compassion and love, where the days of the Good Samaritan are over. My heart is heavy and my hope in the human spirit is battered.
When I saw the news article of the wicked accusations and attack of my grandmother, my initial response was to wish those who attacked my sick and helpless grandmother a taste of their own medicine. I wanted to wish that some old member of their family that they love very much would go through the same ordeal.
I wanted to pray that when they grow old they get dementia and Alzheimer's disease, and lose their memories and faculties, and wander away from home. I wanted to wish that some superstitious and ignorant crowd would surround them, torture them to confess they are witches and throw rocks at them.
But I cannot wish them that, Maama would never approve it. She is a true Christian and she raised me loving and forgiving people. She would want me to forgive them for they know not what they do. She would want me to grow stronger and wiser from the whole ordeal. She would want me to know that it is not how long we pray, it is not how fat our offering is in church or the mosque, it is not how long we fast, it is how we treat the least among us.
Selasi Fiadzigbe
Manhattan College,
School of Engineering.
New York, NY, USA