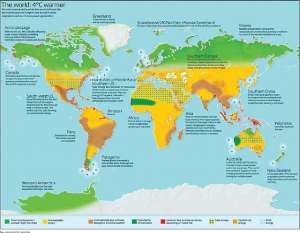 The subject of climate change has undoubtedly become a major issue in today's world development agenda. Climate change has been explained as changes in composition of the atmosphere - increased greenhouse gases and aerosols. This has widely led to warmer surface temperature – land, ocean, changing precipitation patterns, reduced Arctic sea-ice, retreating glaciers, melting ice sheets, Higher sea levels – higher storm surges; increased cyclones/ hurricanes in the Atlantic, More frequent extreme weather events - heat waves, floods, droughts.
The effects of climate change are increasingly threatening the sustainability of the environment. Evidently, it has provoked very serious and grievous social impacts. For instance, climate change effects have led to deepening unemployment. Ashaladja is a community in Ghana where agriculture which is the key source of livelihood of the inhabitants has been adversely affected the over 5,000 indigenes. Strategic Youth Network for Development (SYND) in October, 2010 did climate change education and tree planting exercise in the community with support from the World Bank Institute and British Council. We observed during a tour in the community that Farm lands have been destroyed due to the main river of the community overflowing its banks. Crops such as Cassava, Yam, Cocoyam, and Plantain are unable to be harvested. Thus the youth including young women have become jobless and are forced to engage in deviant behaviors such as armed robbery, prostitution, and drug abuse as means of survival.
Again, the influx of young people from the rural to the urban areas as an attempt to escape serious droughts has denied development in those rural areas. Indeed, if the able, talented, energetic and vibrant young people are hurriedly leaving for the city or urban centers, then how can development take place in those communities? This signal is posing a threat to the future of these communities thereby denying the possibility of eradicating poverty. The negative social impact of such development may not be quantified.
In Ghana, social interaction is a form of bonding for most community dwellers; it is common to find family and relatives performing domestic chores in common – either at home, market or community centers. Vocations such as fishing, cooking, farming, washing, and building are done in solidarity. Unfortunately, climate change is breaking such 'sacred' bonding that community dwellers have enjoyed in harmony over the period. For example, in times of drought, people predominantly engaged in farming must necessarily split to go seeking for other source of livelihood even if it means relocating. Parents no longer have quality time with their children thereby not able to inculcate in their children the necessary values and principles needed to forming the right attitude in life. When children become wayward, their actions and/or inactions may be detrimental to society. Women are tasked with the pain of walking several kilometers to access water for domestic chores. Husbands may not be willing to devote all the needed support and care that their wives deserve in the name of striving for survival. Climate change consequences seem to be orientating community dwellers to becoming more individualistic instead of collectivity – to wit "everyone for himself, God for us all". The quality time that existed among people through interaction is fading out slowly but steadily. The bonding and solidarity that is systematically loosing its hold is leading to negative social impacts.
The cultures of some communities have also been altered due to Climate change effects. Aboakyire festival is one of the well celebrated festivals in Ghana. A key highlight of the festival is the hunting of a live antelope. The inability of hunters to grab an antelope dims the light of the festival. This specie is increasing becoming extinct due to climate change hence what will be the future of this festival? Will this festival be aborted in the near future? Time will supply.
Kpoikpoi, is another festival celebrated by the Gas of Ghana. It's a celebration of bumper harvest and thanksgiving to the ancestors or gods. Usually, maize or corn is cooked and prepared with palm oil. The head of the family takes the lead after the meal has been prepared and sprinkles them at the door steps of all the rooms in the compound before everyone is expected to eat the meal. The food sprinkled at the door steps are expected to be eaten by the ancestors or gods. Climate change is succeeding to truncate this festival. Changes in weather pattern have affected planting and harvesting of corn. Rainfall has become unpredictable thus putting farmers in a very confused state – not knowing the right time to sow or farm.
Standing on the above submissions, the social impacts of climate change effects can not be under estimated. It is posing a great threat to society's survival. It is therefore highly recommended that actions be taken to ameliorate these challenges. Proposed solutions are:
1. Families living in communities should be educated on how they can mitigate and adapt to the climate change.
2. Young people working in the agriculture industry should be empowered through capacity building to employ more efficient and effective methods or approaches to successful agricultural practices.
3. Stakeholders in the private sector and prominent individual citizens should be encouraged to commit to the fight against climate change by contributing some resources.
4. Young people should be trained, empowered and raised as Ambassadors to champion the fight against climate change through peer-learning, information sharing through social networks (internet blogs, facebook, twitter etc), and community groupings or think tanks.
5. The time, energies and talents of young people should be identified, harnessed and developed so they are deployed to dealing with climate change effects.
Undeniably, the war against climate change can not be sustained without the active participation and involvement of young people. Today's world leaders and other environmental-oriented stakeholders in their negotiations, dialogues, discussions and consultations need to engage their youth throughout the process as they are – needless to say – future leaders. If young people are not actively inculcated or 'baptized' into initiates, programs and/or projects on climate change issues, then I am afraid that not only will all these years of time and resources committed be wasted but climate change will triumph eventually and ultimately defeating the task or efforts to achieving the Millennium Development Goals (MDGs) 2015.
Chibeze Sunday Ezekiel
Executive Coordinator, Strategic Youth Network for Development (SYND)
00233244967931
[email protected] / [email protected]
www.chibeze.blogspot.com