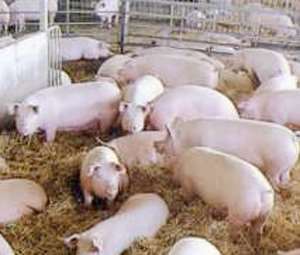 RESIDENTS OF Birem in the Kwaman Traditional Area of the Ashanti region were stunned last Saturday morning when they woke up to the news of the invasion of their cemetery by human-eating pigs.
The pigs are not letting the dead in Birem and surrounding farming communities rest in peace, as they exhume their graves and eat the carcasses afterwards.
The sad development has placed a financial burden on residents in the area as they are compelled to bury their dead relations all over again.
The man-eating pigs, from the cemetery, dash straight into a stream that provides drinking water for residents in the area, and pollute the water.
The Biremhene, Nana Baffuor Agyekum, has consequently appealed to the government to come to their aid and stop the marauding pigs from causing more havoc.
'I am, on behalf of my people, passionately appealing to the government to come to our aid by instructing the pig owners to provide shelter for the pigs to stop them from entering the cemetery,' he said on Kessben FM.
Speaking with Ali Baba on the station's Saturday show dubbed 'Breaking News Hour', the distraught traditional leader noted that the pigs belonged to some 'Frafra' settlers in the community.
He said four months ago, the pigs entered the cemetery, exhumed human dead bodies and ate them, causing serious environmental problems for the community.
Nana Agyekum said the committee members of the hitherto peaceful area then stormed the cemetery and managed to kill two of the man-eating animals which were brought to him at his palace.
For the sake of peace, he said, he invited the owners of the pigs to his palace and released the two dead animals to them, warning them to provide shelter for the animals to prevent them from entering the cemetery in future.
He said he then stormed the cemetery with his elders to pour libations to pacify the spirits of the dead and the gods, after which the family members of the dead buried them again.
The Birem Chief said he then informed the police, the DCE of the area and the Environmental Protection Agency to get involved to ensure that the pig owners would not let their animals loose again.
Exactly four months after the first case, he said, the community woke up last Saturday morning to realize with horror that the man-eating animals had entered the cemetery once again to eat dead human bodies.
Nana Agyekum said the owners of the pigs wanted to create trouble in the community, thereby flouting his orders by letting loose their animals to eat dead human bodies.
To avert any trouble or bloodshed, the Birem chief implored the government and the appropriate authorities to intervene immediately since the man-eating animals were gradually getting out of hand.
From I.F. Joe Awuah Jnr., Kumasi