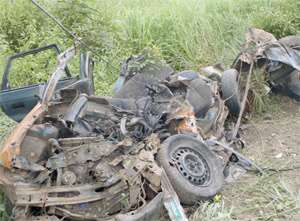 RESIDENTS OF Harmony, a suburb of Elmina in the Komenda-Edina-Eguafo-Abrem (KEEA) Municipality of the Central Region, on Tuesday, were shocked when a Kia truck collided with a taxi, killing seven people instantly.
They were the six passengers in the taxi and the mate of the Kia truck. The driver of the truck, however, escaped death and sustained some injuries.
The bodies of the deceased have since been deposited at the Central Regional Hospital for autopsy while the driver is on admission at the same hospital.
Briefing DAILY GUIDE , the Municipal Police Commander, Joseph Stephen Heywoode, said his outfit received the information around 4am that a Kia truck had run over a taxi cab.
He disclosed that the driver of the Kia truck travelling from Takoradi to Cape Coast was suspected to have lost control of the steering wheel and veered off his lane to the taxi's lane, running over it.
He noted that the driver of the taxi cab coming from Cape Coast to Elmina, upon seeing the Kia truck entering its lane, tried to swerve it in order to save the lives of his passengers but the truck crashed into them on the shoulders of the road.
Chief Supt. Heywood hinted that the six passengers in the taxi cab were believed to be returning from Cape Coast after an all-night festive activity preceding the Oguaa Fetu Afahye.
From Sarah Owusu-Darlington, Elmina