AN OPEN LETTER TO THE PRESIDENT ABOUT FRIMPONG BOATENG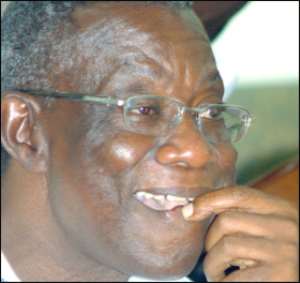 Dear Uncle Atta,
I have read the reasons you have adduced for your government's insistence that the Professor extraordinaire Frimpong Boateng must leave and found that bizarre and illogical. I hope you pardon me for dealing the word illogical to address my president, but it simply illogical.
Although I do not have a law degree or a fanciful letters by my name, I understand logic and commonsense. If Uncle Atta is insisting that Frimpong Boateng must go because he is 62, I am ready to challenge Uncle Atta in an open court of public opinion and to prove to him that there is nothing more behind this calculated move than pure politics that has robbed many Ghanaians off their hard earned positions.
First, I have an uncle whose name I am withholding for now who is well over 60 years who is still shuttling between the national security and the Bureau of National Investigations. He just returned from the United States on a frivolous holiday sponsored by a very unjust state that will sponsor praise singers like him on frivolous trips when they are well above the retirement age and in the twilight of their faculties, but turn around to give a bloody nose to a self-made man like Professor Boateng for political expediency.
Uncle Atta, please go back and wear your thinking cap before you address us 25 million constituency. Some among these 25 million people might have resigned their fates to Bishop Dr. Obinim, so they don't think for themselves anymore, they believe sincerely in your own atatement, that God is the leader of your government. But please for once try to get it that you are not addressing your party's foot soldiers; you are addressing 25 million Ghanaians, many of them intellectuals like your good self and may be better.
Stratification in Sociology informs us that value is placed on certain professions and careers as a result of the demands of their training. In this case, only a few individuals are able to acquire such training because they are the few who have the brainpower and resources – both time and financial – to invest in acquiring such training. Subsequently, value is placed on such individuals and the rewards systems of society are accordingly attuned in cognizance of that.
The point is, Uncle and his government can easily throw out directors of the national health insurances who are perceived to be NPP sympathizers and go around to fix square pegs in their stead and nobody will take notice. Uncle Atta and his government can starve off contractors perceived to be sympathizers of the previous regime and nobody would raise hell, but for world acclaimed surgeons like Boateng, the precursor of the Ccardio Center, the decision is simply in bad taste.
Professor Boateng could also have earned my greatest sympathy if he had appreciated sufficiently, the catalytic role of President J J Rawling in bringing the Cardio Center into being.
Uncle Atta, I work at the Ministry of Finance as a civil servant and I can assure you that there are too many over age individuals who are still at post. Therefore, if that is your new policy and you claim to be applying the law of this country fairly, then I want to see the axe fall across board.
I have never been in doubt about your intentions until today. I am tempted to believe that what your own Kingmakers like Jerry John Rawlings, the wife, and other close associates have been saying all along is simply true. You are petty and vindictive. If even you are no longer a poodle to them, you are still a poodle to some invisible hands which are manipulating this situation right in front of you. Are you not ashamed to have to defend this decision on their behalf in public!?
Well, you have just lost one vote! Stop pontificating now. You are a politician and never a religious leader as your actions are in complete contrast with what you profess. Thank you.
Dan Kofi Asamoah
Accra